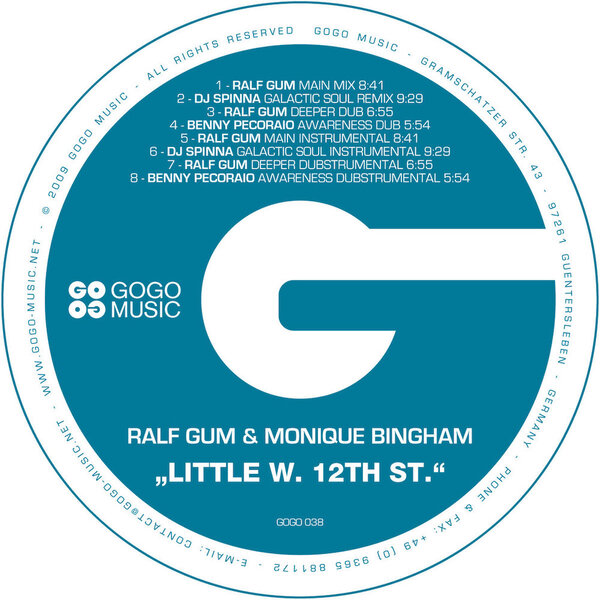 Little W. 12th St. (Incl. DJ Spinna Mixes)
GOGO Music
GOGO 038 | 2009-10-26
Ralf GUM & Monique Bingham return! With mixes by DJ Spinna and Benny Pecoraio.

GOGO Music , Ralf GUM and Monique Bingham are responsible for the biggest soulful house tune of 2008. And their new track "Little W. 12th St." is another unparalleled outing with both Monique Bingham living up to her reputation as one of the scene's finest lyricists and Ralf GUM as one of its most outstanding producers.

In-demand DJ Ralf GUM is constantly travelling around the globe for hugely successful performances, but somehow still manages to find the time for his unmistakably eclectic studio productions. While gracing dance-floors from Norway to South Africa he's delivered a string of top-notch remixes for labels like Papa, Defected, Knee Deep or his own GOGO Music in 2009. Despite all this, Ralf GUM doesn't neglect his own releases and can already call his own Higher High one of the more celebrated tracks of 2009. Ralf, who is known for his uncompromising quality productions, provided Monique with a soul-oozing playback. With the help of studio musician and co-writer Michael "Nivalito" Ehnes and a set of great guest musicians, the instrumentation for "Little W. 12th St." was arranged and executed with tender loving care and has "timeless" written all over it.

Monique Bingham has delivered some of the most beautiful and memorable songs in dance music history. Early works like "Get Another Plan" or "We had a thing" with Abstract Truth already solidified her relevance and ability to deepen and grow as a writer and vocalist. After the band phased out, she collaborated as a solo artist with many acclaimed producers around the planet (e.g. Quentin Harris, Frankie Feliciano, Kerri Chandler) and solidified her standing as one of the most unique and sophisticated voices in dance music. Monique set another landmark in her unique career together with Ralf GUM when last year's smash hit Kissing Strangers, which appeared on countless lists for one of the best tracks of 2008 including #1 single of the year on Traxsource.com.

Remixes for the marvelous "Little W. 12th St." come from no less than DJ Spinna and Benny Pecoraio. DJ Spinna is something of an anomaly in music as he simply can't be boxed into one single style. With his new and dope Hip Hop album entitled "Sonic Smash" he's venturing back into the stage that saw his inception in the industry. He has worked with everyone from Mos Def, Pharaohe Monch, hip-hop legends like Sadat X & Grand Puba (Brand Nubian), Masta Ace and Guru (Gangstar) to even De La Soul. But Spinna's sonics soon infiltrated numerous genres including soulful house where he has released timeless music on his own Wonderwax label. His remix credits include Michael Jackson or Stevie Wonder and it goes without saying that he is responsible for one of the most memorable remixes in soulful dance with his monumental version of Shawn Escoffery's "Days Like This".

Benny Pecoraio made a name for himself with productions and remixes on labels such as Jamie Lewis' Purple imprint, Paris based Jaffa Music, Shack, Barcoda and of course GOGO Music. He recently began two new projects. Together with compatriot Roed Svensk he has developed East West Affair, whose first release "The Wait Is Over" saw the light of day on Seamless Recordings. Benny also joined forces with Ralf GUM as 4 Ears and had their first single "Can't Be Without You" signed to Canadian deep house label Iwanai Music. Currently Benny is preparing his coming out under his new alias Ben Moss who will release soon on his new label "LOSS Audio". DJ Benny Pecoraio doesn't commit himself to one single house style. He knows exactly how to subtly choose a soulful "live" track that can melt perfectly with a deep or even techy track. To immediately understand what we're talking about here one simply has to see Benny play out live. He has been described as a chameleon, capable of adapting to the ambience of any room, large or small, without compromising his definition of good sounding music. You can also take a listen to the GOGO Music radio-show which is hosted by Benny Pecoraio together with Ralf GUM, broadcasted on more than 30 stations worldwide.

With the various interpretations ranging from soul to epic to deep to groovy this release contains everything we love about (house) music!