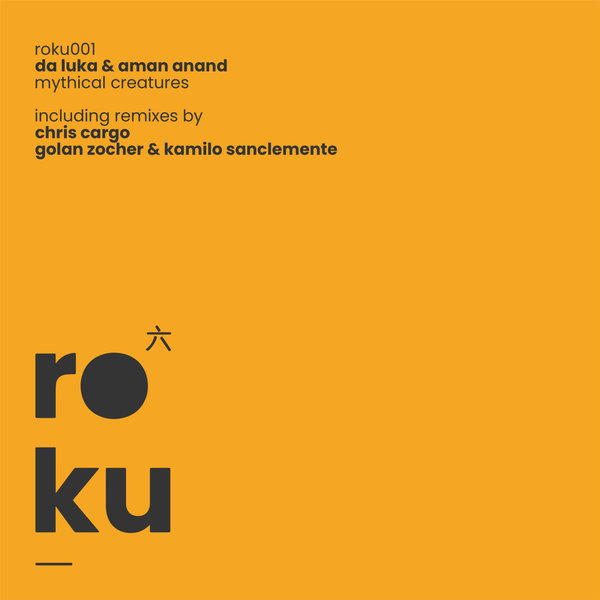 Founded by Da Luka and Jorgio Kioris, roku arrives in grand fashion with a much-anticipated
single from Da Luka and Aman Anand. Hailing from Albania, Da Luka emerged from his
country's electronic music landscape a decade ago. Whether operating in solo capacity or
alongside frequent production partner Jorgio Kioris, Da Luka's creative vision would summon
the praise of progressive music tastemakers Cid Inc, Guy J, Eelke Kleijn, Hernan Cattaneo, Nick
Warren and more, in turn leading to releases via Droid9, Juicebox Music, Movement Recordings
and WARPP. Meanwhile, Indian born, Singapore based artist Aman Anand has enjoyed similar
success across his eleven-year career. With a cutting-edge style, Aman has become beloved
within the progressive music spectrum, recording standout projects for Juicebox Music, Mango
Alley and Sudbeat, while also earning play and support from the genre's elite guard in Guy J,
Hernan Cattaneo and Nick Warren. Now, for roku's inaugural offering, Da Luka and Aman
combine their extensive forces for the first time, presenting the much anticipated single
'Mythical Creatures', alongside remixes from Golan Zocher and Kamilo Sanclemente and Chris
Cargo.

As a favourite of DJ Ruby across 2022, the Original Mix finds Da Luka and Aman masterfully
synthesizing their talents into one singular brain-bending vision. Muscular kick drums and
voluptuous bass stabs lead to electrified iterations of new age sonics, as shape shifting
atmospheres and precise percussive arrangements drive energy into the main break. The
intuitive musical dialogue held between the duo is explored further across the conscientious
expanding interlude. Equal parts tense and emotive, panoramic arps and flurries of claps unite
for a striking apex, ultimately setting the course for a suitably grooved out finale
Providing the first interpretation of 'Mythical Creatures' are Golan Zocher and Kamilo
Sanclemente who make their label debut. Colombian born, Israel based artist Golan Zocher
makes progressive music that breaks boundaries, moves feet and twists minds. Following a
2016 debut, the Tel Aviv resident quickly found his place amongst the genre's elite. Releases via
Clubsonica, Mango Alley, Or Two Strangers and Plattenbank, highlight what has been an eight-
year creative swell for this elusive talent. With a career that spans the better part of a decade,
Colombian artist Kamilo Sanclemente has risen into one of his country's most beloved
progressive house producers. The Cali resident has showcased his music via highly regarded
imprints such as All Day I Dream, Anjunadeep, Replug and The Soundgarden, while earning
continued support from the genre's premiere tastemakers Hernan Cattaneo and Nick Warren.
Having been paired together previously on projects for Perspectives Digital and Modern
Agenda, Golan and Kamilo unite once again with a stellar rendition of 'Mythical Creatures'. As a
favourite of Guy J, Guy Mantzur and Hernan Cattaneo across 2022, the duo's remix has received
considerable play time, stealing the air at the world's trendiest clubs and biggest events, most
notably BNP Open Life, Loveland, Midway, Moments, Womb and more. Highly sought after as a
result, the duo takes inspiration from the original, remodeling the track into a magical slice of
groove-centric progressive house. Complete with hook-heavy stabs, hyperactive rhythms and a
complement of elastic-like melodies, it's an adrenalized energy-rush for the ages - one where
Golan and Kamilo land at their creative best.

The release concludes with Chris Cargo making his label debut with the second and final
interpretation of 'Mythical Creatures'. The Irish artist was an integral part of the progressive
house movement that happened in the late nineties. Perhaps best known for his productions
on Mara's Choo Choo label, label, Chris also appeared on Renaissance and Automatic Records.
Following a long absence Chris made a well-received return to the scene in 2017 and has since
compiled an impressive discography, highlighted by releases via John OO Fleming's JOOF
Recordings, Juicebox Music, Mango Alley and his own If You Wait imprint. Fresh off projects for
Tash's Movement Recordings to end the year, Chris begins 2023 by putting a deeper, more
atmospheric spin on 'Mythical Creatures'. Warm and inviting throughout; its re-shaped low end
provides a smooth anchor for balmy effects and heavenly sonics to work their magic. A blissful
centrepiece sits at the heart of the journey, highlighted by creamy melodies, evolving
atmospherics and bulbous bass swells; an emotive amalgamation of sound which perfectly sets
the stage for a tasteful finale.

Words by Mitch Alexander - www.releasepromo.com
Mastered by Cid Inc.