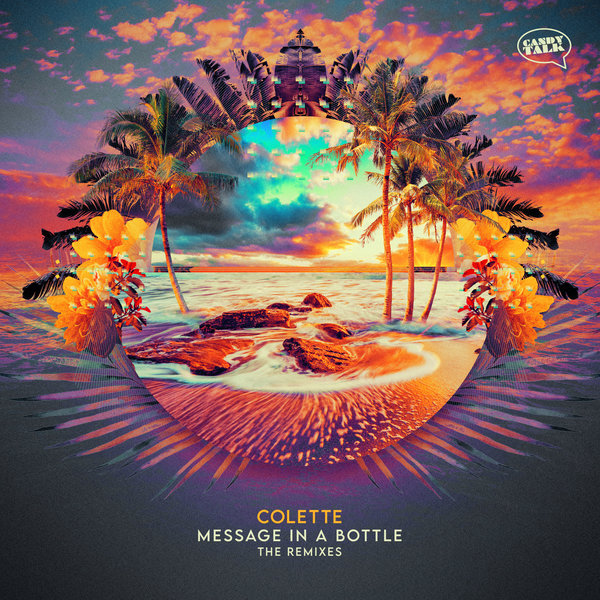 Colette covers the Police classic "Message In A Bottle"
Remixes by Torrfisk, Pete Moss, Local Options and Demarkus Lewis
Written by Sting
Copyright EMI Blackwood Music Inc. o/b/o Magnetic Publishing Ltd.
Vocals recorded at Angelhouse Studios in Los Angeles
Artwork by Steve Berumen
Mastering by Brian Boncher

After the original was released, label head Colette sourced this well-crafted collection of her favorties to remix her dynamite version of "Message In A Bottle" for Candy Talk Record's twenty-seventh release. Curating this dynamic grouping of interpretations, she continues her ongoing collaborations with her friends Torrfisk, Pete Moss, Local Options, and Demarkus Lewis.

Known for his acidic brand of chunky house music, Chicago's Torrfisk's remix of Colette's cover immediately grabs these same infamous vibes he is known for to accelerate the vibe of her version of this iconic song. Jumping right into this stomper of a track, he immediately gets this groove bumping as repetitous phrases of Colette's vocals become the feature of this harder take on her main vocal arrangement. A great option for prime time dance floors.

Resident Candy Talk Records favorite, Pete Moss, takes his main mix to another world with a low driving frequency filtered synth and kick pattern that features a few repeating vocal echoes before setting up the spacious bed for Colette's first verse. After a return to the looping vocal segments, Moss builds the track's psychedelic energy by progressively notching up the envelope filter on the synth line as he continues to cascade Colette's serene vocals on top of its extraterrestrial vibes.

Chicago's Local Options bring their extremely effective take on deep house to this remix collection with their extremely subliminal sonic take on this song. Entering their world by stuttering Colette's vocals over synth pads from outerspace, this version builds into a Prescription-esque groove before her main vocals get dubbed out over this serene deep grooving canvas.

The Dallas Maverick, Demarkus Lewis, delivers a stunning Dub mix with all the class this prolific producer has become known for over his hundreds of releases. The deep house maestro starts his beautifully-crafted modern-garage take out by rearranging Colette's sultry vocal performance. Layering this entrancing pattern over classic electric pianos and complete with his signature bumping basslines, this last mix rounds out this remix collection to find something for every point in a programmer's evening.