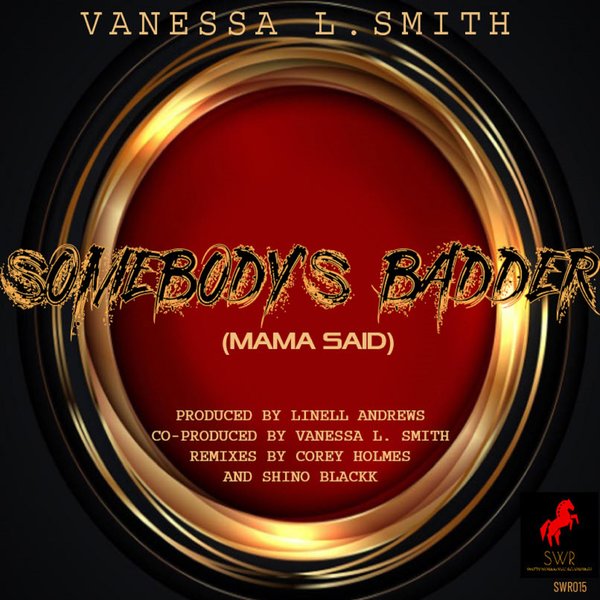 Almost everyone deserves a song. "Somebody's Badder (Mama Said)" is really a shoutout warning to those bullies around the world. "Somebody's Badder (Mama Said)" is also an ode to the Mama's giving their children and adults wise council about life. Bullies are prevalent, and come in all ages, shapes, sizes, colors, and locations. Vanessa L. Smith could not have said it more clearly. She wants to let the bullies know that "When you think your bad, somebody's badder than you", just like her Mama warned to bullies. Karma is a part of life, both the good and the bad, and Karma is coming, no matter what. The intention of what we put out does return back to us. Bullies have been warned here. Got a bully? Don't worry, DANCE to this thumper and SHOUT, "SOMEBODY'S BADDER THAN YOU!". This release contains the awesome and creatively dynamic original that was Produced by Linell Andrews and Co-Produced by Vanessa L. Smith. The strong remixes by Corey Holmes and Shino Blackk are noteworthy and specifically created for the dancefloor. The words that quickly come to mind are, slick, thumper, commanding, dynamic, dancefloor. We hope you enjoy this wonderfully creative and dynamic release!
Credits:
Written and Performed by Vanessa L. Smith
Produced by Linell Andrews on bass drums, percussion, guitar, mixing and mastering
Original Co-Produced by Vanessa L. Smith
Bass and Remixes Corey Holmes
Remixes - Shino Blackk
Release Artwork – Vanessa L. Smith
Vocals Recorded at Smitty Workhorse Recordings Studio
©Smitty Workhorse Recordings LLC.