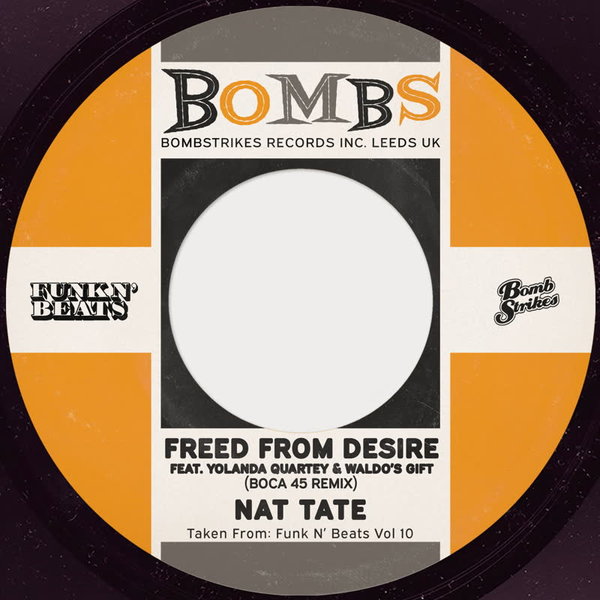 BOMBFUNKB010S1 | 2023-02-10
Taken from Bombstrikes compilation - Funk N' Beats Vol. 10, curated by Bristol's very own Boca 45, who certainly has the credentials to deliver. After immersing himself in all things Hip Hop and Funk from a young age, he has been unleashing productions upon the world for the last 25 years on legendary labels such as Grand Central and Mass Appeal. His place as an aficionado is beyond doubt with his selection and turntable skills seeing him hold down residencies at Fabric, appearing globally, and even being hand-picked by the mysterious artist Banksy to open his Dismaland project.

'Freed From Desire' is Nat Tate's cover of a dance anthem featuring Waldo's Gift and Yolanda Quartey (AKA Yola, fresh from playing Sister Rosetta in Baz Luhrmann's Elvis movie), reworked into future funk classic by Boca 45. Guitar riffs and rolling beats dance alongside one hell of a vocal performance from Yolanda. Delivering an interpretation with such gravitas that it feels like it could actually be the original. A perfect taster of what the album has in store with music from Jurassic 5's Chali 2NA & Krafty Kuts. The Gaff, The Allergies' own DJ Moneyshot, Paul Nice & Phill Most Chill, X-Ray Ted, and many more.