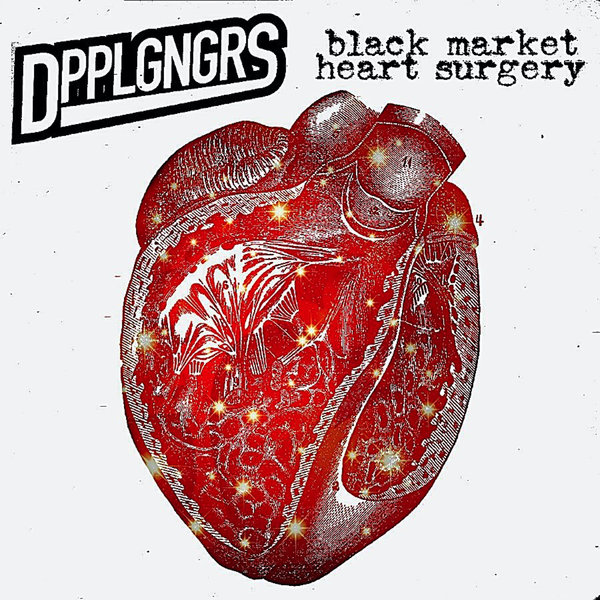 "Comparisons to established duos such as Chemical Brothers, Orbital and Underworld are inevitable" - 4/5 - Irish Daily Star

"Electro of the future" - Electro Album Of The Month - Mixmag

"There are certainly times on electro duo DPPLGNGRS debut album when the whirlpool acid sounds could be mistaken for The Chemical Brothers" - DJ Mag

"... the album features a collection of epic seven-minute-long electro floorfillers, where futuristic beats have been fantastically fused with muted robotic overtones..." - Press Association

With a decade having passed since DPPLGNGRS dropped their long player Black Market Heart Surgery, it seemed only fitting to re-release the album to mark the anniversary...

DPPLGNGRS arrived in 2010 and in a few short years had achieved a total of FOUR Moneyshots (Singles of the Month) in DJ Magazine, who declared the Southend duo to be "... simply the most exciting new UK production duo since Simian Mobile Disco took the baton from The Chemical Brothers"*. They remixed a raft of names from OMD to Crystal Fighters to Losers & Brian Molko, and gained a whole bunch of fans along the way. Oh, and scored the Electro Album Of The Month in Mixmag for BMHS as well.
Tony and Craig were both blessed with gloriously similarly eclectic listening histories, with both of them spending many of their formative years listening to the early rave, hardcore and jungle soundtrack to their Essex homeland. These influences definitely left their marks on DPPLGNGRS distinctive sound which DJ Mag described in their June 2012 issue as a mash-up of "purple electro, squelchy bleep techno, discoid house, and bass-heavy beats bizness."

Having had a bit of a hiatus over the last few years, Craig and Tony have been busy in the studio of late.... The 10th Anniversary Edition of Black Market Heart Surgery arrives ahead of a singles/remixes/unreleased compilation out early next year, and a brace of BRAND NEW releases to delight ears and dancefloors through 2023....