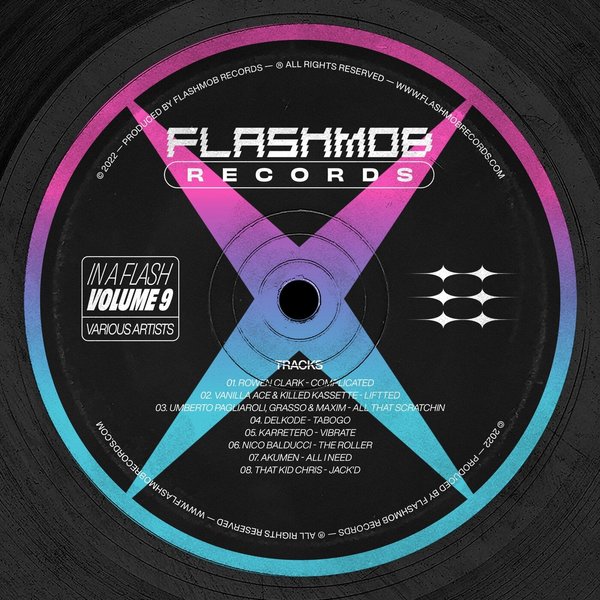 Our 9th edition of In A Flash, a compilation including some of our favourite artists, old and new, with genres ranging from house to tech house.
Kickstarting the package is talent Rowen Clark from Rotterdam, with a single titled Complicated, a sultry vocal paired with classic tech house sound, what more could you ask for? Lifted is track two - a collaboration between prolific and increasingly prominent force in house music, Vanilla Ace and pioneer with a remarkable resume - Killed Kassette, catchy synth leads, uplifting percussion and smooth fills keep this track on repeat in your mind.
Umberto Pagliaroli and Grasso & Maxim team up for the third track on this release, acid-infused, mystifying and cheeky soundscapes are brought to the table in All That Scratchin.

Welcoming back Colombian DJ & producer Delkode to Flashmob for his single on our compilation titled, Tabago. Track four features bright timbres and lively polyrhythms, bringing this high energy house record to life. Karretero is next up with Vibrate, perfectly balanced, warm percussion, feel good vibes all round. The Spanish DJ and producer certainly has a special affinity. Nico Balducci takes control of our sixth track on the album, the young Scotsman has been making an increasing amount of noise, and this release is no different. The Roller is vibrant and zestful, ready to take on dancefloors the world over. All I need by Akumen is the seventh single on this album, sensual vocals and techno inspired drum fills, percussion and synth leads bring this kinetic track together seamlessly.
Closing off this compilation with class is That Kid Chris with Jack'd, an upbeat techno inspired house track. A hard kick and bassline softened with intricate chords and a classic cowbell, bring and blend the two worlds together harmoniously.

Set for worldwide release on 16 September 2022.