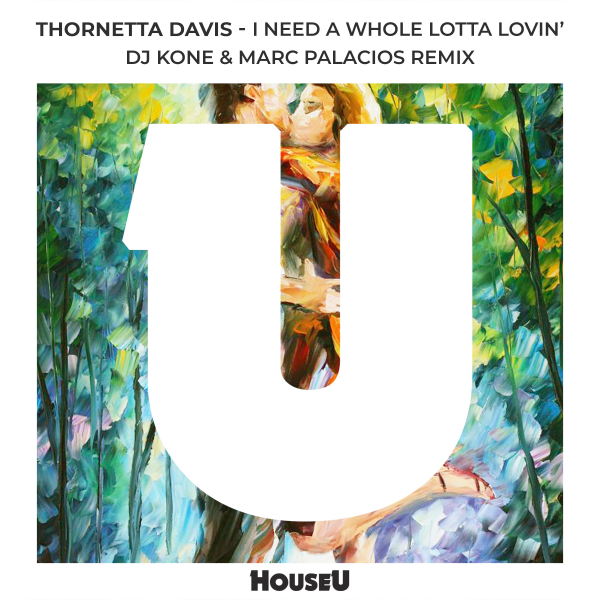 I Need A Whole Lotta Lovin'
HouseU
HOUSEU163 | 2022-08-26
We are back with a remake of a successful release presented now by Dj Kone & Marc Palacios.
The Spanish dj/producer duo works in the international House scene for more than 20 years. They started producer works exactly back in 2009, and they showed up at the greatest House record labels such as: Sony Music, Milk & Sugar Recordings, Great Stuff, CR2 and so on. All above they worked alongside world stars like Eddie Amador, Dr. Kucho, Cece Rogers and many more.
They return to our label after a longer break with a 100% pure and characteristic Dj Kone & Marc Palacios remix. Composer and vocalist of the original song is the talented Thornetta Davis, who introducer herself at the label last year.
The American singer built up a respectable biography as well since she performed as a background singer behind a lot of world stars, and in solo as well. She won more than 30 different musical awards, and she is officially the Detroit's Blues Queen. Next to America she toured in most of the European countries as well and performed at a lot of blues festivals.
We are delighted to welcome back these 3 artists on HouseU with the brand new remix of 'I Need A Whole Lotta Lovin'. The wonderful rework is full of unique solutions and characteristic tools from Kone & Marc's sortiment. It is all about a dynamic groove combined with a little piano and Thornetta's stunning voice.
This song is a good fit to the dancefloors, and we would like to offer it for all the HouseU followers.
Don't miss our brand new release!