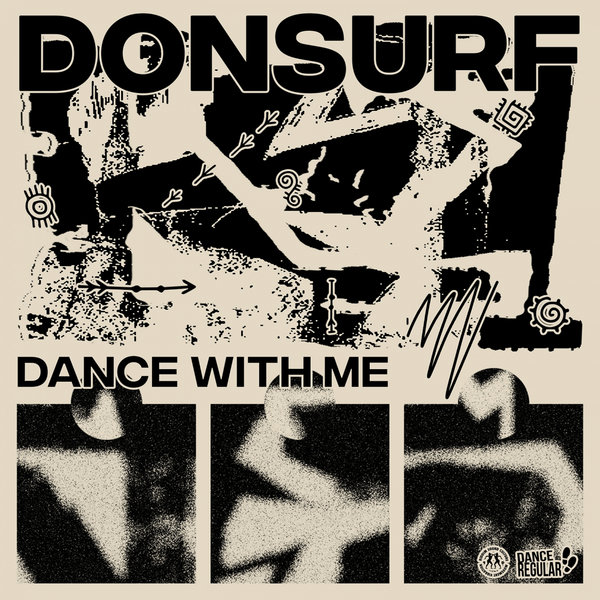 We knew about Donsurf from key releases on ec2a, Gimme A Break Records And Kultura Collective. We were playing his music which was on a more ruff & tuff underground UKG flex, particularly his debut white label release 'Tell 'Em' with Bakey (another firm fave of ours) on ec2a.

When Dance Regular and Selectors Assemble did the dance tent at last years We Out Here festival I remember seeing a young face at the front of the crowd totally immersed in what we were doing behind the decks. He then passed me a USB and said there's some demos in there I think you'll be into, my name is Donsurf!

The name was one I knew was on my radar, but couldn't place at the time amongst the hype of the dance tent! For the rest of the festival, shamefully I forgot about the USB in my bag and it wasn't until I got home that I unpacked my DJ stuff and found this USB that wasn't mine and thought what's this? I loaded it up and it said Donsurf, which isn't a name you forget! I then realised it was him that made that track with Bakey, so naturally I got very excited! At the first listen I was blown away proper!

I couldn't believe someone this young (21) is making Bruk music this good at this level! The quality of production and attention to detail was just madness!! I remember thinking a similar thing when I first heard disclosure. We knew this one had to come out on the label and as they say, the rest is history!

Now a concrete member of the Dance Regular family, he has played on our Rinse FM show, various DR events and is set to play We Out Here 2022 and Repercussions at The Warehouse Project on 10th September with us.

His music is sure to inspire the new generation of Bruk and Garage producers as the movement builds. We're mad excited to represent it and for you to hear, feel it and run dance floors red with it!

6 tracks of Jazzy Broken beat vibes to heavy Bruk and bass vibes.

Kicking off with Dance with Me, a hypnotic journey bouncing neatly on a perfectly crafted broken beat, with muted Jazz horns and a teasing female vocal "Dance With me now" that floats in and out of the lush pads, pianos and dubbed out guitar licks, until a deep sub bass reels you in even more, and the funk bass guitar too! Ouch!

Track 2, Yemeya, picks up the pace with slightly more tuffer drums and this triangle at the beginning that's reminiscent of Lonnie Liston Smiths Expansions. Suspense keeps building up, into a deep bassline drop that will shake any sound system! Not what you would expect from the sweet comforting groove thats been played out from the start. This is what we like, the rough with the smooth, and trust, Don does it perfectly!

Track 3, Original Dub is a warning for real! Everybody spread O U T , Ring the alarm! Don takes things darker with Heavy Bruk drums from the off, no foreplay! Dutty bass, lazers, dub vocals, jungle drum fills, the lot. Be careful with this one!

Track 4, Soundboy, gives you somewhat of a breather, with Garage drum sounds in a Bruk pattern, neatly stitched together with a cheeky kinda Rhodes sound, building tension, letting you know some- thing is gonna happen. Do we need to go on? .... This Bass drop is summat special! Run Riddim again... and again!

Track 5, Brazilintime, Lets you chill a peice, but maintains the bass frequencies nicely, giving you a subtle but deep sub wobble. Pushed along with more broken drums accompanied by congas and percussion with some Brazilian vocal chops to complete the melodic journey.

Track 6, Biguine Steps closes off the EP, reminding us of Dons precise drum programming, keeping the vibe percussive, bass heavy and resonant. Leaving you wanting more!