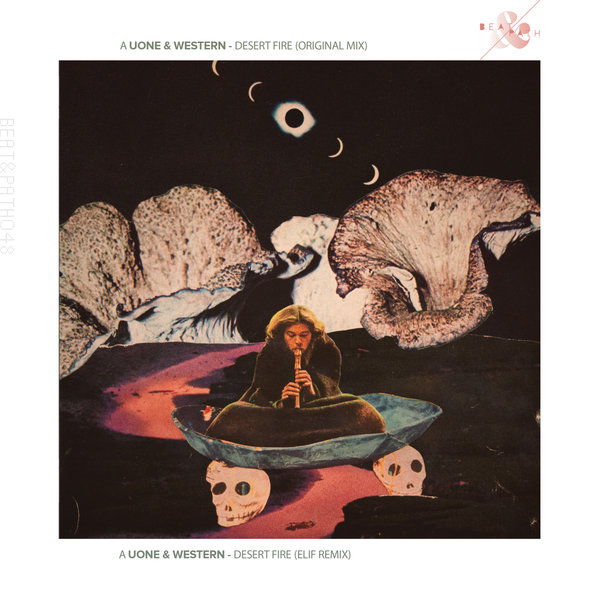 In 2020, Uone and Western released a ten-track manifesto of cinematographic desert house, 'The Lone Wranglers'. The album – every instrumental element of which was recorded live – set a bold precedent for would-be soundtrackers of dust-ridden doofs. In 'Desert Fire' (the duo's first release since their 'Lone Wranglers' album), they return with a stripped and earnest sound, distilling their vision-questing aesthetic to its essence.

At home among the most low-riding elements of 'The Lone Wranglers', 'Desert Fire' holds onto the apocalyptic intensity that characterises Uone and Western's sound, with a violin lead, sweeping dub pads and vocal snippets uniting to form something filmic and visionary. Fittingly, the track samples Jarmusch's 1995 psychedelic Western, 'Dead Man', an ambitious project that burst with prophetic literary allusions. And for a production that hints at the day of reckoning, there's a surprising optimism to 'Desert Fire', which culminates on this parched line from the film's protagonist: 'The only man who's got the guts to sell his soul for love and the power to change the world.'

On the flipside, Anjunadeep favourite Elif delivers a remix that's DJ-friendly but laconic, cutting the violin and pitched percussion to let the piano chords cavort alongside Elif's bewildering synth-lead arabesques – some of the more complex programming you're likely to hear on a festival floor this season. The cerebral Istanbul-born producer has rocked festivals from Amsterdam to Tulum, and this understated B-side combines her understanding of dancefloor dynamics and music theory.