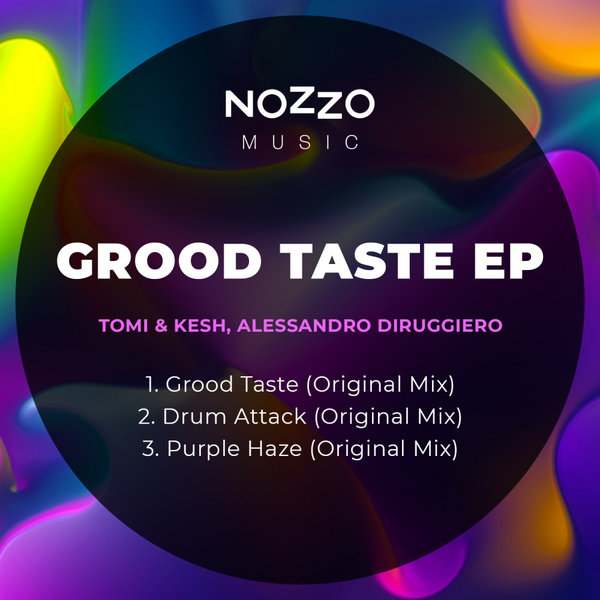 Label bosses Tomi & Kesh return alongside Alessandro Diruggiero for a freshly squeezed triple-track EP - Grood Taste.

Whilst they continue to build their reputation on a global scale, NoZzo Music frontmen Tomi&Kesh are back on home soil with their latest release as they enlist the collaboration of the ever-talented Alessandro Diruggiero for 'Grood Taste'.

The EP opens on the title track 'Grood Taste', delving straight into an addictively danceable bed of rolling drums and rhythmic sub-bass. Laced with endless layers of percussive flair, the track's subtly rising melodies continue to build alongside an arrangement of vox shots and creative fills before reaching a peak and diving deep into the groove once more.

'Drum Attack' comes next, bringing an air of peak-time terrace vibes from the outset. Percussive-led Tech House at its finest, building around a simple yet catchy sub-bass melody and a flurry of punchy kicks, sizzling hat sequences and subtle splashes of melody. Another flowing wave of deep choruses and rising lead segments make this a wave you never want to get off.

The release closes on 'Purple Haze', completing a trio of stripped-back rollers with a slightly roughened feel. Summertime synths bubble up through a bed of rambunctious drums & percussion whilst pulsating sub-bass notes descend right into the base of your feet. A track that resonates with every level of your sensory perception, dive in & let it move you.

Tomi & Kesh and Alessandro Diruggiero's 'Grood Taste' EP is out on 1st July 2022 on NoZzo Music.