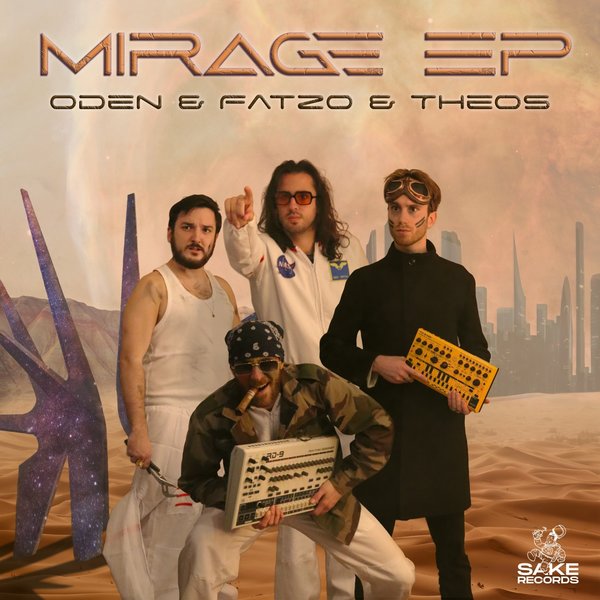 "After escaping from Dr. Krank's planet, the three astronauts took refuge on an arid planet orbiting two stars. To repair their ship, they had no choice but to participate in a module race against a people of scrap metal enthusiasts of spices and multicolored pills. All seemed lost, when a stranger calling himself the chosen one slowed down time and allowed our friends to cross the finish line before their competitors. Our protagonists barely had time to feel a strong sense of déjà vu, when they had to steal a ship to fly to a satellite planet and avoid the participants' reprisals. This is their story."

1. "Mirage" sets the stage for Oden & Fatzo & THEOS' collaboration right off the bat, with its melancholy violins and deep soulful vocals contrasting with the dynamic drumming and punchy bass. The more the song evolves, the more it moves away from classic house structures to reveal the true nature of the quartet's aspirations, between soaring jazz piano solos, and skinny percussion responses.

2. It is on the same momentum that the EP continues with "Drunken Motel", opening the second song on a keyboard solo characteristic of THEOS. We find then the bridge between the classic house of the 90s and the modern deep tech, so dear to the artists. Then the violins intensify to give way to a funky lead reminding the old classics of Oden & Fatzo's productions, before ending on an apotheosis of harmonies.

3. The listener continues his inner journey with "Mind Travelers", with a steady tempo and a decidedly garage swing. The bouncing bass gradually mixes with the violins to become one with the resolutely catchy voice, calling for "Lose My Mind Tonight" in a real ode to the party. Then a question answer of West Coast leads and funk flights is revealed, allowing the track to take off out of the earth orbit.

4. In "The Sand Troopers", the quartet slows down the tempo and takes out the guitars for a funky ballad, with relentless drums, reminding their first collaborations. The vocoder and the groovy synthesizers write in turn a declaration of love to Daft Punk and to their French electronic heritage. This is even more apparent at the end of the track where the rhythm bursts and breaks up, reminding us of the classic productions of the robot-headed duo.

5. The last track of the EP, "Selfish Desire", may not be unknown to you since our friends have been playing it all around Europe for years. If its vocal reminds of Jamiroquai, it's not without reason, since it's one of the quartet's biggest sources of inspiration. The jazzy rhodes chords go in and out of the range, gradually accentuating the sustained groove of the classic house 909 drums before ending in a climax of funky gimmicks, which could not offer a better conclusion to the project.