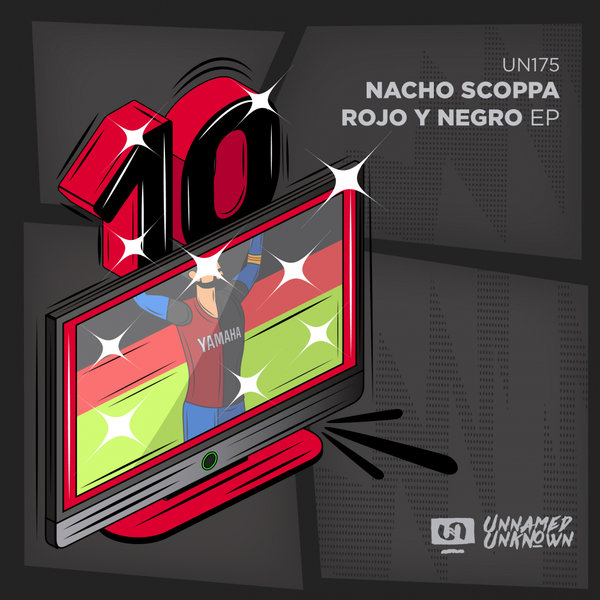 Argentinian talent Nacho Scoppa returns to the label with a five-track EP dedicated to renowned football club Newell's Old Boys in Rosario - Rojo Y Negro.

Nacho Scoppa is steadily making his mark on the global Tech House scene, collecting an impressive catalogue of releases on a growing number of the genre's leading imprints. Following his last offering in 2020, he returns to the label with an impressive new collection of tracks.

Opening the release, '10' sets the pace with racy rhythms and driving low-frequency power. A heavyset Kick and sub-bass combo create movement alongside rippling percussive layers whilst subtle melodic injections and soulful vocal runs fill the mix.

'No Excuses' comes next with more percussive-focused allure. Another sturdy beat and rumbling bassline connection build out the groove of the track whilst swinging percs glide alongside brightened tones and feel-good harmonies from end to end.

'Rojo Y Negro' keeps the energy at a premium with another terrace-ready weapon. Hollowed out sub-bass fills the space between weighty drum work and blistering instrumental sequences as the track goes through a relentless ebb and flow of rising melodies and subtly swirling vox layers.

'Rosario' takes things deeper, focusing on underground flavours and intricate layers of carefully constructed melody. Keeping the top-tier exhibition of drums and bassline composition in place, the track rolls around directional percussion and stirring vocal samples to keep you anchored into the groove.

'CANOB' closes the release on the front foot via another masterful display of heavy Tech House with mammoth bassline drive and punchy rhythmic factors. The track is driven along by a dominant and catchy vocal topline, passing into different atmospheric stages in between relentlessly danceable segments!

Nacho Scoppa's 'Rojo Y Negro' is out on 28th April 2022 on Unnamed & Unknown.