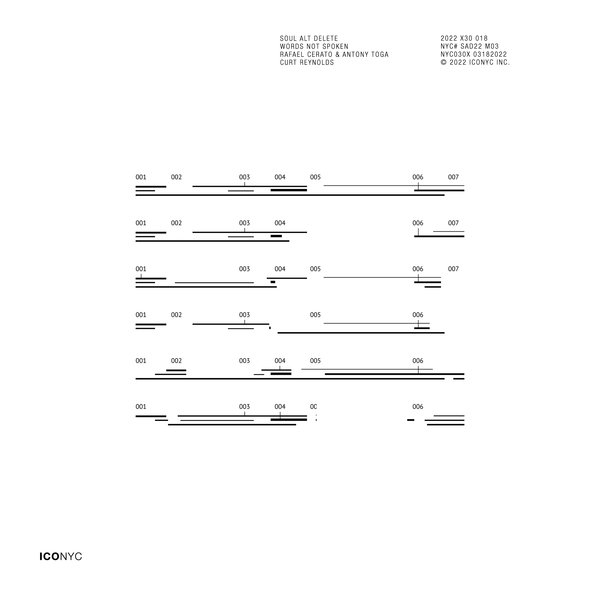 Soul Alt Delete has developed a universally loved unique style; a dynamic, groovy, deep and hypnotic fusion of genres that perfectly fits in any kind of club or open-air festival. Soul Alt Delete's releases have always received high acclaim. For his debut release on ICONYC we're excited to welcome Rafael Cerato & Antony Toga, as well as Curt Reynolds on remix duty to bring us their take on Soul Alt Delete's debut single 'Words Not Spoken'.

Soul Alt Delete who knows a thing or two when it comes to mind blowing productions, delivers an irresistible track that kicks things off nicely with the melancholic vibes setting the tone. He roams effortlessly through melodic inspired vibes, while the sultry chords sit wonderfully on top of the driving percussive foundation while the vocal zooms in and out for maximum effect. S.A.D. takes it up a notch by adding an extra layer of depth, whilst upping the flow with cleverly programmed drumming and his trademark FX elements, without destroying the essence of the main groove. His work deserves to be branded 'essential' in any sense of the word.

On remix duty we welcome Rafael Cerato & Antony Toga, to the label. The duo doesn't need any introduction, as they are universally known for their driving and refined sound. The duo delivers a break's infused melodic mix for the ages. Their remix is driven by the pulsating bass and tight drumming as they both combine to do the talking. Like something from yesteryear yet sounding totally fresh - This massive touch up takes the energy quantities up a level and increases the drive with stripped back and lucid elements, before the energetic groove creates a blanket of warmth that will put a smile on your face. Colossal remix from Rafael & Antony.

The second remix comes courtesy of another debutant Curt Reynolds, who brings a deeper melodic progressive edge to 'Words Not Spoken'. His rework creates a good feel vibe from the word go, as the atmospheric and driving vibe keeps you moving with warm tinkling sounds, a smooth edge and some nicely effected sounding pieces that keeps building to culminate into a lovely melodic progressive house groover. We basically have the formula for a bit of a monumental outing. The sparseness is key here, as this restrained gem works its magic while it plays away, creating a stunning glow, creating an air of sophistication.

Soul Alt Delete manages to deliver a message of sustained musical relevance in emphatic fashion to warm the soul. 'Words Not Spoken' sees a worldwide release on March 18th, 2022 via all well-known digital content providers. Not to be missed!