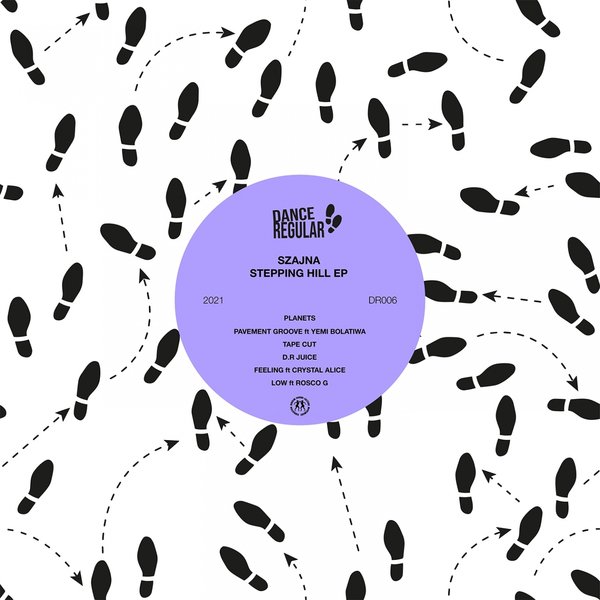 Stepping Hill EP Kicks off with a classic cut 'Planets' a straight up Bruk workout, reminiscent of the original CoOp days when Seiji's Loose Lips was running the dance red hot! These crunchy Bruk step drums keep this jam running with vocal chops, talking philosophy about the planets and language, while lush chords, bleeps and a fat round bassline roll through to keep the energy moving, what else does one need to fling foot on the floor! (Try saying that fast!) One for the steppers! The second track takes us on a more 2 step UKG vibe, baring the other strings to Szajna's bow. 'Pavement groove' is a proper soulful roller featuring London born, Manchester based Yemi Bolatiwa, a talented vocalist and songwriter who is a leading light of the Manchester music scene. Working with orchestras, bands and DJs in a range of different genres, a versatile performer as her recent single, 'Water', showed. On Szajna's 'Pavement Groove' Yemi's soulful vocals flow in and out of the 2 step rhythm and jazzy chords with low end sub basses laying foundations to the groove.

Szajna pulls out Tape Cut, another sweet roller, more breakbeat than Broken-beat but still chopping it with that Bruk essence. Chords and percussion dance with the drums until a hypnotic flute introduces itself. It's uplifting, playful, beatsy, bassy with dubbed out FX. D.R Juice, is a fave in the Dance Regular office, hitting all the right buttons in a Bruk dance floor sense. Dark and moody with proper chunky broken drums syncopated with this stab that gives the whole thing a kind of wobble while dubbed out sirens bleed through the tight hi-hats and deep bassline. We've been playing this one for a while and can't wait to mash the dance with this one ! All you Bruk Steppers, S P R E A D O U T !

Like you'd need any more after that, Szajna lays down more soothing soulful garage esq beats on 'Feeling' with singer songwriter for The Darling Mundaring, London based, Crystal Alice, who has gathered a wide respect for encapsulating music that draws the listener into an unforgettable and intense experience, vocalist Crystal entices the listener with her soft sultry melodies that tell stories about love, loss, life and redemption. Finishing off with Low ft Rosco G, skippy drum patterns once again keeping up that nod to UKG with piano chords and a muted Miles Davis style trumpet from Manchesters Rosco G. Smooth as you like, a laid back head nodder, that gangsta lean shit.

Early support from IG Culture (CoOp), Worldwide FM, Tuck Shop Music, Alex Nut (Eglo Records), Don Pascal, Mark Tilley, Mikey Do.