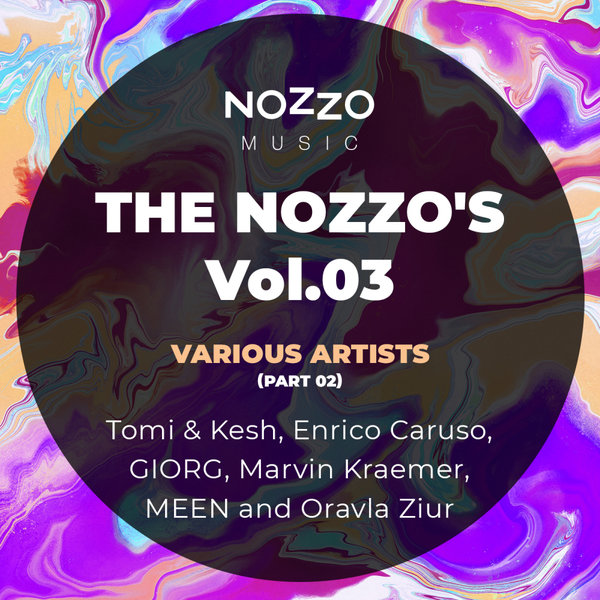 The NoZzo's Vol. 3 (Part 2)
Various Artists
NoZzo Music
NM013 | 2022-02-18
Dropping in with our first release and VA of 2022, NoZzo Music's family gathering 'The NoZzo's' is back for its third instalment, inviting a host of incredible Tech House talent from around the globe. The VA is splitted into Part 1 and Part 2, both coming out in February.

Leading the way, label bosses Tomi&Kesh collab with Gustaff & Enrico Caruso on two separate tracks. 'YYY' sees the duo and Gustaff churn out an archetypal NoZzo jam, driven by tonal rhythmic percs and subtle synth licks. Whilst 'Draco' is a more energetic cut that sees Caruso combine with the pair for a peak time terrace bomb full of climactic builds and thunderous drops.

Dee No's 'I'm Not A DJ' follows, keeping the velocity high with heavyset drum work and roaring sub-bass. Providing a clever blend of punch and groove before 'Make It Happen' sees GIORG drive a soulful vocal through an emphatic dancefloor heater - rife with striking percussive flair and harsh frequencies.

'Retro' takes things a touch deeper as Juan Dragster forges a rolling hotbed of rhythm, timbre and feeling. Its concoction of undeniably danceable elements leads perfectly into Marvin Kraaemer's 'Relief', which continues the sound of the underground with deep and dreamy melodies, soulful vocal licks and a captivating bassline.

MEEN's 'Chispa' flips the script with an engaging arrangement of tribal-inspired elements. A quirky record with a Latin feel, lighthearted grooves and rising energy throughout, it's followed by a weighty answer as Milos Pesovic's 'Ze Moon' reintroduces a stomp. Deep and dense beats drive the bulk of the track whilst a subtle layer of tonal percs ripple along behind creative vocal constructions.

'Don't Stop' sees Oravla Ziur turn in a spirited and catchy cut for the penultimate track on the release. Commanding vocal chops and quirky fills pierce through a hard shell of worthy drums and catchy sub-bass for a hands-up journey from end to end. Raized closes the VA on a bang with 'Loves Gonna Get You', taking no prisoners with a heavyweight number. Swinging drums and huge bass frequencies pump throughout, whilst an energetic vocal glides between stirring melodies and mammoth drops.