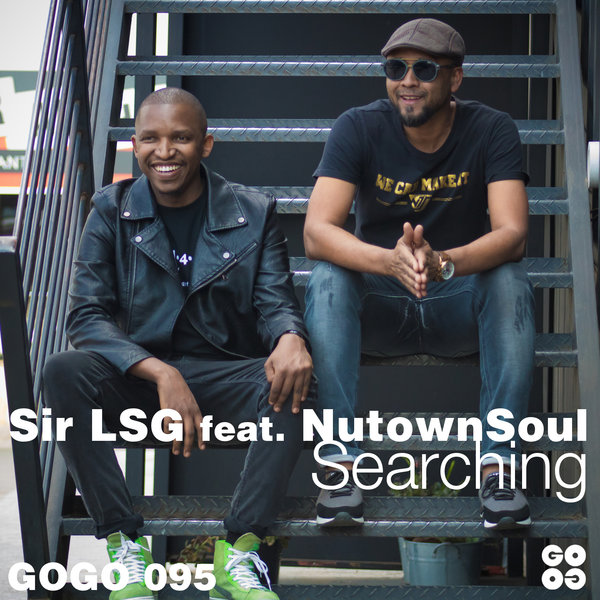 GOGO Music proudly presents "Searching" by Sir LSG featuring NutownSoul. After a 4 year hiatus Sir LSG returns to follow up his celebrated masterpiece album "Moving Circles" with another timeless song, which continues to enhance his unique soulful style together with NutownSoul on this well crafted tune.

Sir LSG is a South African award winning music producer and DJ with a career that spans from 2006. His 2017 debut album "Moving Circles" charted in Japan, Sweden, Kenya, and held the #1 spot in South Africa for some weeks post release. The album saw him winning the "Producer of The Year" at the Dance Music South Africa Awards in 2018, too. In 2020 Sir LSG's passion for artist development drove him to produce Bread4Soul Convos, a daily interactive online show with a focus on knowledge sharing. The show hosted a number of influential figures in the music industry such as DJ Sbu, Monique Bingham, Ralf GUM, DJ Ganyani, Black Coffee, Proverb, Mi Casa, DJ Christos to name a few. Now he's back as well with new music. "Searching" features NutownSoul and sees Sir LSG continuing to carve out his own soulful sound.

Originally from Soweto, NutownSoul grew up in a musical family and launched his professional music career in 2008. Renowned for his hits like Solid Ground, Malome, Fade Away and Future Past, he was also part of an all-star team that produced the multi award winning Musicbox albums by DJ Terance. Since 2018 NutownSoul focuses on uplifting house music and teamed up with various South African producers to release a string of successful songs. He nowadays is one of the most beloved soulful voices in South Africa and the talented singer, songwriter and producer drew praise from industry giants globally.

On remix duties you'll find Soulfreakah, one of a new breed of South African producers that have been tasked with breathing new life into the Deep and Soulful House fraternity. With various beloved releases under his belt, Soulfreakah has as well worked with some of the finest House Music practitioners in the country and was doing remixes for acts such as ArtworkSounds and Oscar Mbo. In 2020 he was recognized by the South Africa blog Deep House News in the Top 10 Deep and Soulful House Producers for 2020. We are happy to welcome him with a remix for Sir LSG on our label and foresee an awesome trajectory for him.

GOGO Music continues to be the source for timeless soulful House Music with a meaning and is delighted to present you "Searching" by Sir LSG feat. NutownSoul, which exactly falls into this category.

Tracklist:

1 - Sir LSG Radio Edit - ISRC: DEY162009503
2 - Sir LSG Original Mix - ISRC: DEY162009501
3 - Sir LSG Instrumental - ISRC: DEY162009502
4 - Soulfreakah Remix - ISRC: DEY162009504

Written by Tshepo Diseko, Lesego Sefako, Refentse Victory Chauke.

Produced by Sir LSG.
Lead and background vocals by NutownSoul. Additional background vocals by Mandisa Ngwane.

1, 2, 3: Rhodes, Piano by Refentse %u2018Vic%u2019 Chauke. Bass by Carlow Jooste. Guitar by Simz Kulla. Synthesizer, Drum Programming by Sir LSG. Additional vocal editing by Simz Kulla. Mixed by Ralf GUM.

4: Remix by Soulfreakah. Rhodes by Blessing "The Bless" Nkuna. Guitar by Vusi Nhlapho. Trumpet by Thandanani Kgaladi. Saxophone by Lefa Ntshaba. Drum Programming and all other instruments by Soulfreakah. Additional production by Sir LSG. Mixed by Sir LSG.

Mastered by Masterlab.de.
Published by Rano Enterprise, Refentse Victory Chauke, Sir LSG Music.

P&C GOGO Music 2021.