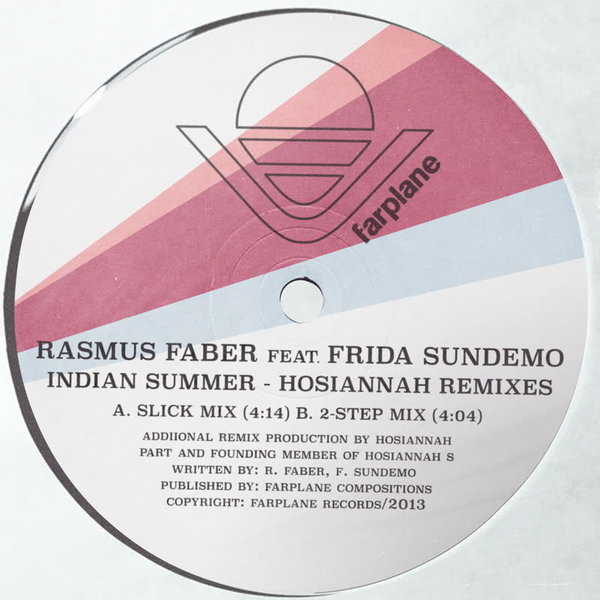 Indian Summer - Hosiannah Remixes (feat. Frida Sundemo)
Farplane
FP071 | 2021-09-17
Two new remixes of one of Rasmus Faber's most successful singles 'Indian Summer' by fellow Stockholm producer Hosiannah.

It was 2013 when Rasmus Faber first teamed up with vocalist Frida Sundemo to release his multi-million streamed single Indian Summer and album of the same name. 8 years later it's time for Rasmus's new collaborator and fellow Swedish house producer Hosiannah to work the desk which has resulted in two fresh takes on this perennial track.

Hosiannah, also known as Theo Ekblom and Nomad has previously written and produced for names like Skott, ALMA, Mapei, Moli, Noomi and Grey.

Rasmus Faber biography:

Stockholm producer, pianist, DJ, band leader, soundtrack composer and all-round multi-talented, hardworking, nice guy Rasmus Faber sits comfortably alongside electronic dance music's royalty with collaboration namedrops such as Kaskade, Axwell, and Deadmau5 under his belt. However, Rasmus has always prided himself on his musical diversity exemplified by regularly leading his Latin inspired ten-piece RaFa Orchestra and anime theme tune covering Platina Jazz bands around the globe with the latter clocking up 10 albums and many millions of YouTube streams.


More recently the industrious Swede has turned his hand to composing and producing music for films and TV series as well as releasing hundreds of tracks via an array of side-project aliases such as 80s boogie inspired The Pleasure Principle and the Japanese / Swedish experimental, soundscape collaboration l i l j a.


Despite all this Rasmus maintains a frenetic musical output under his own name including some newly released down-tempo, soulful tracks via the likes of Soul Love / Defected and Be Real on Majestic Casual which has garnered many millions of Spotify streams and new fans.