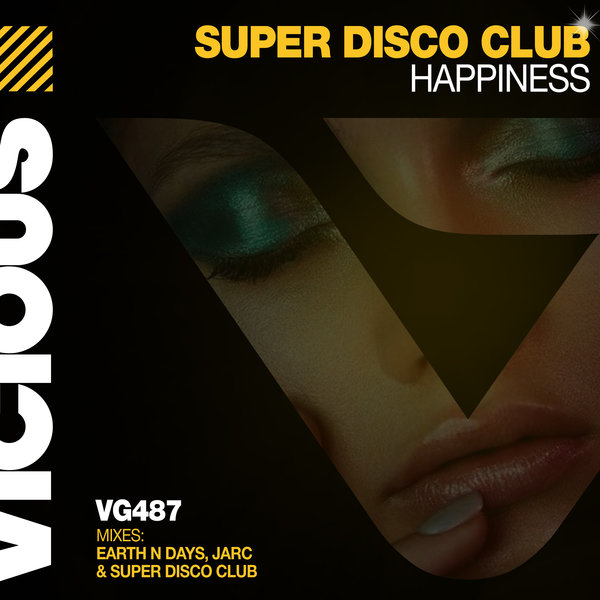 Happiness (ft. Sadako Pointer)
Vicious
VG12487 | 2021-10-08
The title 'Happiness' says it all when this meteoric tune drops and instantly connects the crowd. Super Disco Club deliver a bona fide house jam sure to resonate on club dance floors and DJ sets worldwide. Expect a straight up vocal number that effortlessly navigates between the uplifting House and Nu Disco scenes, whilst standing proudly with an abundant commercial edge.

Both accessible and cool in equal measure, and this almighty package comes with an incredible array of remixers all feature vocalist and original Pointer Sister Sadako dropping an outstanding performance, clearly dictating we "Keep that goodness coming" … and Super Disco Club certainly do. Their recent supporters include Low Steppa, Mark Knight, Jaguar Skills, Joyce Muniz, Nicole Moudaber, Rui Da Silva, Henry Hacking, Roger Sanchez, Tommie Sunshine, Milk & Sugar, Tom Novy, IO Supastar, Eddie Amador and Gene Farris, so expect the DJ fraternity to switch on fast, and keep this one on constant rotation.

We kick things off with Super Disco Club's Original Club mix, a floor shaking, funky ass jam, repeating Sadaka's awesome vocal hooks, with a four on the floor, bassline driven house vibe. Contemporary and on point dance music for 2021.

International music duo Earth N Days then deliver a straight up house treatment staying true to their tried and tested massive club vibes characterised by energetic beats, massive basses and spiced with vocals and disco elements.

Then disco edit men of mystery JARC strip things back to a slinky, slow funk meets disco groove letting the bassline take the lead over a long intro that eventually drops into Sadaka's massive vocals. This one is for the disco and re-edit massive.

Three cracking versions will see SDC's "Happiness" rumbling dance floors across the planet.