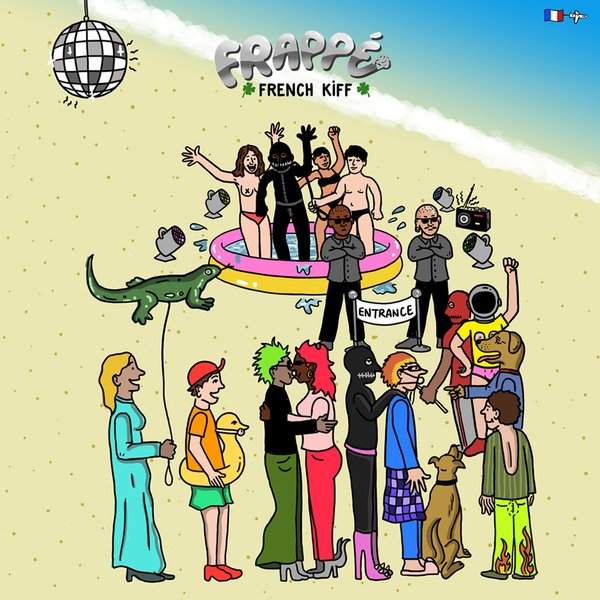 FRPP004BTI01 | 2021-05-14
Frappé, the label to follow in 2021, supported by Laurent GARNIER who has recently said about them: "This label is on fire .... Looove the hard party vibe from the whole thing, and also love the cheekiness of some tracks. With tracks with huge samples from CHANGE, to tracks with obvious influence from "St Germain" ...These guys know the score..."

The French label is already making a strong comeback with a fourth release: a pure House Music-infused Various Artists EP. Each of the 5 tracks explores a different aspect of what makes the House music sound of today, and yesterday, keeping intact the very Frenchy and dancefloor DNA of the label. Once more, Frappé is bringing together artists coming from different backgrounds, putting on a same record Lo-fi, Jazzy, Garage and French Touch influences.

Frappé is collaborating for the first time with a non-French artist and has picked a rising star of the electronic music scene in the person of northern-Irish producer Mark Blair. For the young prodigy, this is also his first release on vinyl, likely to make "French Kiff" a collectable item on Discogs soon! He is making his mark on this wax with "Tropicana", a track as simple as it is efficient on which house chords are supporting a warm and sensual trumpet riff. All this is made in the lo-fi fashion which is his signature sound.

Naux, the rising artist from Lyon comes up with "Kristofer": a made for festival tune. He rolls out a very 80s sounding piano sample, which goes up in the air as the hands of a cheering crowd would, by a beautiful summer afternoon.

The label is very pleased to welcome the Parisian duo Groove Boys Project: their track "Groove Box", is a pure product of the jazzy house sound "à la française" and also a nod to the Garage productions they master so well.

Basile de Suresnes, delivers "French Toast" a track made with a sample he has sculpted over and over again, in order to create a deep and dancefloor-orientated rhythmic. The various elements build-up to create an old-school sounding marvel.

Ten Fingerz, concludes the record with "Ze Party", a groovy tune with loops of filtered guitars layed down over analogic synth chords. A track taking its inspiration from the Roulé and Crydamour productions of the late 90s.