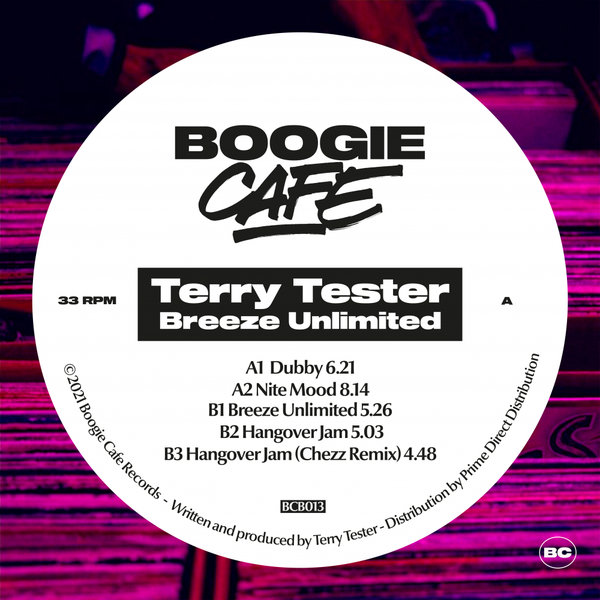 Terry Tester - EP

Boogie Cafe Records

Following a strong 2020 in which the label released acclaimed EPs from Piers Kirwan, Cyclonix, Lay-Far and a collective of rising stars based in the Italian city of Bologna, we have decided to kick-start 2021 with a first label outing from Terry Tester.

This Danish producer, is no newcomer, having first come to the attention of distinguished listeners as part of production duo The Works at the tail end of the 2010s. Since then, he's delivered a handful of admired EPs for Mixed Ape Music, Copenhagen Underground Posse and, most recently, Creak Inc.

Given his quietly impressive track record, it's no surprise that he has delivered the goods on his Boogie Cafe debut. The EP's four original tracks bristle with hazy melodiousness, combining dusty musical motifs and deliciously deep sounds, with tried-and-tested dancefloor grooves.

He sets the tone with 'Dubby', an ultra-deep and hypnotic late-night excursion in which echoing, soulful vocal snippets and rich riffs rise above a raw, analogue bassline and fizzing drums, before offering an even more atmospheric outing in the shape of the bass-heavy broken beat/deep house fusion of 'Breeze Unlimited', where jazzy piano solos and spacey chords catch the ear.

Terry's love of grimy old drum machines and weighty analogue basslines is explored further on 'Nite Mood', a locked-in number that remains deep and alluring thanks to some spell-binding chords and yearning musical flourishes, while the bustling and busy 'Hangover Jam' boasts some brilliant percussion programming, whistling synthesizer melodies and one of his most impactful basslines to date. To round off the EP, Boogie Cafe label partner Chezz delivers a sublime interpretation of 'Hangover Jam', successfully re-imagining the track as a deep, melodious, jazz-funk flavoured broken beat jam.