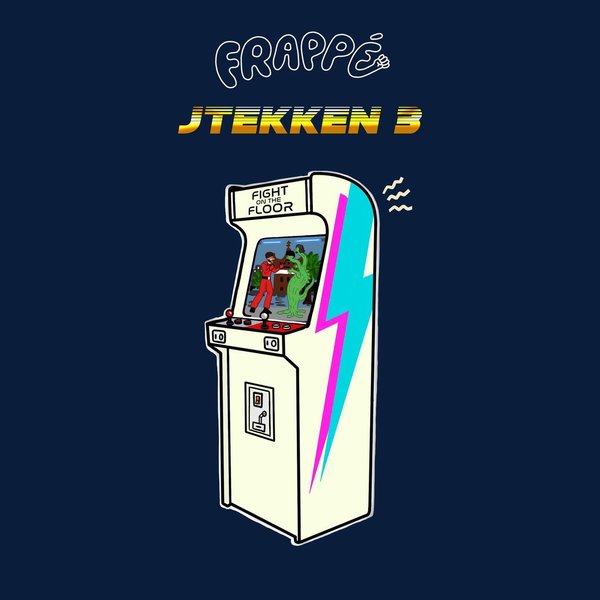 FRPP003BTI01 | 2021-02-12
The young French label is back with JTEKKEN 3, a raw-souding, machine-made, dancefloor-orientated EP. This third opus in the Frappé saga has been locked up inside a brutal and merciless arcade game: here comes its terrific story...

(...) « In the post-apocalyptic world of JTEKKEN 3, life as we know it has almost disappeared. Not so long ago, was an electric and violent atmosphere, full with the sweat of dancing bodies and the scent of alcool and other substances. This world is now dead. The horrible Covidos boss has wiped it out with the back of its clawed hand and has placed the rare survivors under his yoke. Turned into slaves, they only survive as shadows who disappear at night with the last rays of the sun...But! A handful of heroes is refusing to let the world in the hands of Covidos and has decided to fight for the rescue of the planet. They compete against each other in a final mortal kombat in order to select the one who will have the honor to stand up to Covidos in a final showdown to end its evil reign. Their weapons: powerful and destructive gravitationnal sound waves called Musique. Join the Frappé Guild, select your weapon and your hero and add your name to the legend. » (...)

Bazdesur : Co-founder of the Frappé Guild, his reign spreads across the Suresnes / Puteaux cities. This warrior, born and bread inside a cake server, holds one weapon in each hand: « Break for Good Teuchi », an electrokicked broken rythm and « Dirty Shit for Badass », a vengeful House track he has inherited from his ancestors from the 90's.

Ten Fingerz : The wannabe Jedi had been wandering across the galaxy since the 80s when he founded Frappé. He is fighting the fight armed with his star-shaped glasses and 2 tracks filled with analogic force: « NS », the banger with added TB Force and the groove from space-charged track « I Wanna Jack ».

Tomasi : A very long time ago, Théus and Voctorus realized they shared the same genes, they then decided to fuse and become Tomasi a two-headed celestial monster and galaxy defender. In order to fullfill his mission, he uses his calf-busting « Haulte Altiture » spell, which instantly sends his opponents into orbit.