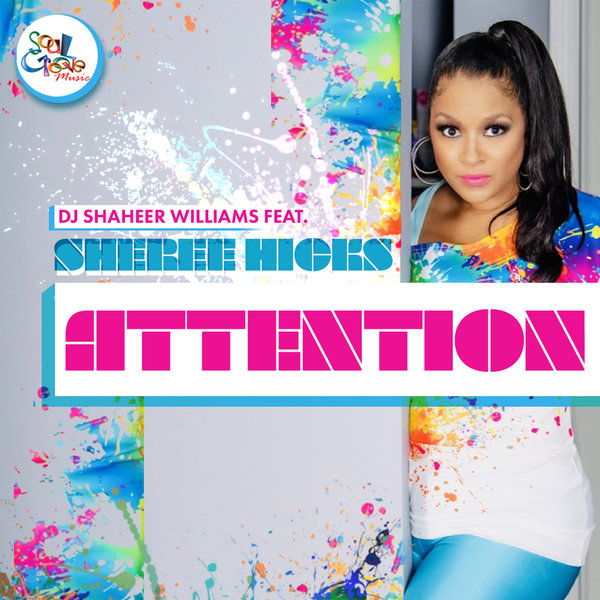 Attention
Soul Groove Instrumental Mix

(6:31)
Hailing the return of the much loved Soulful House imprint, Soul Groove Records, label boss Shaheer Williams joins forces with Chi-Town songbird Sheree Hicks on a stunning new release, 'Attention'. A blissful love song from start to finish, 'Attention' flows with the signature Soul Groove sound, where beautiful key melodies, classy brass and sun-drenched percussive rhythms, pirouette around Sheree's heartfelt candy-sweet vocals.

With decades of experience and International acclaim in the dance music industry, US DJ / Producer Shaheer Williams can proudly attest to being a master of his crafts, be it DJing, remixing, producing chart topping hits or running a record label. Nurturing his own brand of soulful house, DJ Shaheer Williams launched Soul Groove Records in 2004, which featured the likes of Kimara Lovelace, Susu Bobien, Soul Creation, Backroom Productions, Stephanie Cooke, among many, as well as Shaheer's huge collaboration with Louie Vega on the soulful smash, 'Spread Love', with Kenny Bobien and Ann Nesby (The Sounds of Blackness). Shaheer also co-produced the international smash hit and Billboard chart topper, 'Everybody Be Somebody' by Ruffneck, featuring Yavahn on MAW Records. After a few years of exploring other projects, including launching his own night spot in Newark, 'Fever Bar & Lounge', Shaheer is back in the studio busy working on some exciting new productions in preparation for the relaunch of Soul Groove Records in 2021.

US Singer / Songwriter Sheree Hicks has been contributing to the music industry for over 25 years. Her distinctive soulful tones and ear for penning a good song have seen her write, arrange and perform across all genres from Soul, Pop, Gospel, Hip Hop, House and R&B. Since launching her career signed to Def Jam with the trio, A.S.K. M.E., at a young age, Sheree went on to work with the some of the best names in dance music including Stacy Kidd, Mike Dunn, Josh Milan, DJ Spen, Terry Hunter, Brian Pope and so many more. Sheree also runs her own successful label, Chic Soul Music, a creative hub for her own songs and collaborations.

- Written by Sarah Foote, Favouritizm

MUSICAL CREDITS:

Written by Sheree Hicks and Shaheer Williams
Produced by Shaheer Williams for Soul Groove Music.
All vocals performed by Sheree Hicks.
Keyboards performed by Tiger Wilson.
Recording engineered by Shedrick Guy at B. Room Studios.
Mixed by Shaheer Williams and Shedrick Guy.
Mix engineered by Dave Darlington at Bass Hit Recordings.

Published by Shekia Publishing (BMI) and SoulMusic Publishing (ASCAP).

Cover art designed by Jose Gonzalez.
Executive Produced by Shaheer Williams.

Visit soulgroovemusic.com
FB: Soul Groove Music
IG: DJShaheerWilliams

(C) 2021 Soul Groos Music LLC.