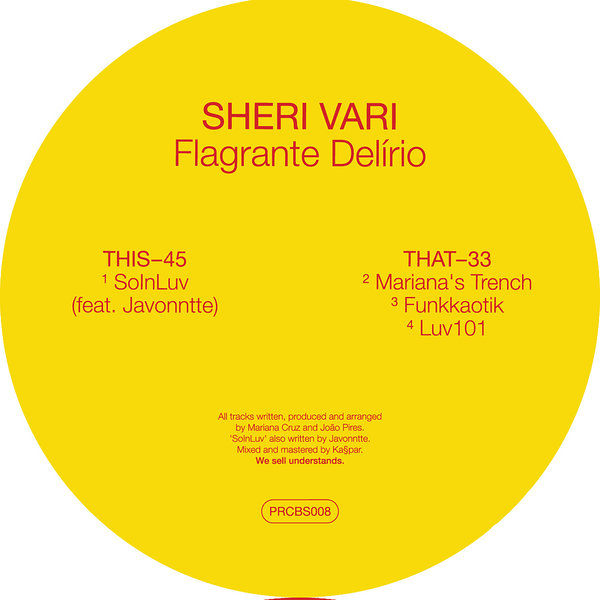 Percebes returns, following a pair of heavy sellers (Hélder Russo's "Onírico" and Daino's "Crescendo"), with a fresh image and a brand new release by the powerhouse girl Sheri Vari, one of the label's founding artists. The new record is called "Flagrante Delírio" and presents four tracks boasting Sheri Vari's unique brand of introspective and gritty funk, crafted with precision and colored with a palette borrowed from classic traditions.

"Flagrante Delírio" hints at the influence of some of Sheri Vari's favorite producers - like Norm Talley, Maurice Fulton, Reggie Burrell, Rick Wade, Lone or Underground Resistance to name a few.

Side A kicks off with "SoInLuv", a track with sweet vocals laden against the analog heat of melodies and harmonies, punctuated by a snappy, classic beat pattern. It features keys and vocals by the omnipresent Javonntte and is cut in glorious 45 RPM for perfect sound (in a clear effort to highlight it as a future classic)!

Side B features three powerful moments that expand on the concepts Sheri Vari is best known for. The first is "Mariana's Trench": a solid, deep-as -deep-gets kind of track, lead by warm pads and sharp beats, with a funky synth bass played by Daino.

Then comes "Funkkaotik", a nasty number that defies categorization: a huge electric beat in pursuit of a mad mono synth going wild with filters, LFO's and lots of smart editing - the result sounds bold and unique, the type of track that can define a DJ set.

Finally, "Luv101" dives deep into analog circuitry for beats, bass, harmonies and melodies. An ethereal piece where bleak jazzy composition meet old school house beats, produced with the sharpness of today's equipment.

Sheri Vari's "Flagrante Delírio" is a unique slither of plastic, filled to the brim with heavy tracks, respectfully rooted in timeless ideas.