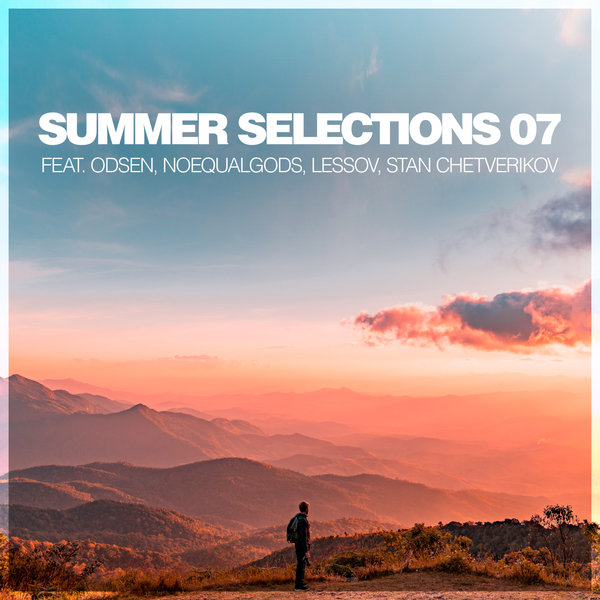 Summer Selections 07
Stan Chetverikov,Lessov,Odsen,Noequalgods
Silk Music
SILKM260 | 2020-06-12
Sinking sunsets and endless nights provide the inspiration and backdrop for our seventh 'Summer Selections' series, once again featuring the soft, sun-kissed melodies of a variety of promising label talents. In this edition, we have handpicked previously unreleased tracks by Odsen, Noequalgods, Lessov, and Stan Chetverikov to complement your summer travel experiences, from scenic drives to revitalizing trips to the beach.

Spanish label newcomer Odsen kicks off the "Summer Selections 07" EP with the cinematic "Heights," a song that eloquently conveys the tale of a late-summer romance that inevitably came to an end. An innovative drum pattern establishes a buoyant groove in the early going; above this, a subdued piano theme, a variety of hypnotic, arpeggiated synth lines, and, ultimately, a recurring vocal motif paint the sonic canvas in somber tones. Hauntingly beautiful strings stand alone in the main breakdown; when combined with the other instrumental layers in the song's final act, the soundscape is especially moving and devastatingly honest in its expression of heartbreak and loss.

Noequalgods, now a recurring contributor to our seasonal sampler series, offers "Tver City." The gifted composer paradoxically pairs a pulsing bassline and tight percussive elements with spacious, ambient atmospheres, to euphonious effect. Vocal chants soon join the soundscape to herald each new chapter in the arrangement, later to be washed away by the cascading harmonies surrounding them. The breakdown offers a flutter of delicate strings, which are affectionally enveloped by rapturous pads. Even after the groove re-emerges in the song's final act, the serenity of the song's aura remains intact, serving to brighten the listener's spirits long after the track's conclusion.

With nearly a decade of beloved label releases under his belt, Lessov serves up "Pause," a soothing, organically crafted gem. A gentle, breezy groove and soft piano riff imbue the arrangement with a chilled, contemplative mood, while a bouncy guitar riff and patiently crescendoing synths simultaneously give the song a bit of uptempo swing. In the breakdown, we are treated to a Lessov signature: a pensive, almost ambient breakdown that poignantly evokes the melancholic hues of early evening summer rain.

Continuing his run of memorable contributions to our seasonal compilation series, Russian talent Stan Chetverikov rounds out this edition with 'Amethyst," a downtempo gem (pun intended) with dark, brooding timbres. Beauty can be found in the shadows: from the solemn stillness arises a heavy synthesizer theme, a beacon of hope that steadily intensifies with tremendous emotional resonance. In the concluding minute, the listener is submerged once again into the cavernous abyss, where a state of deep contemplation awaits.