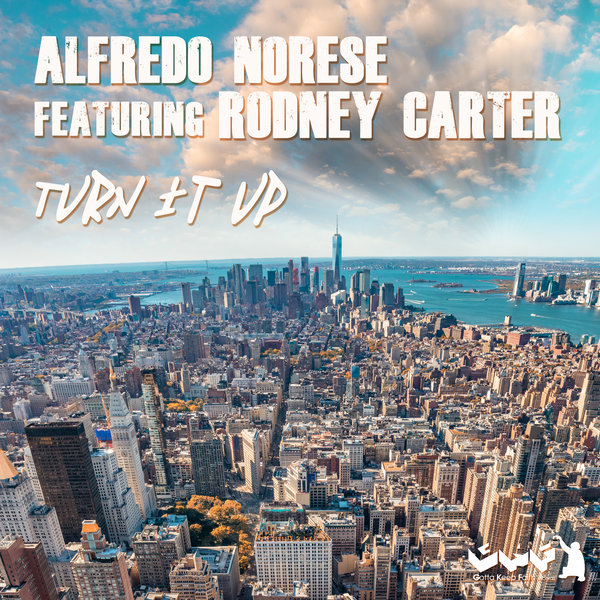 Right for the summer time, Alfredo Norese & Rodney Carter deliver this fresh release ready for the beach parties.
The package includes besides the original versions an amazing remix by D3.

"Turn it up (2015)"
Music by Alfredo Norese and Rodney Carter.
Lyrics by Rodney Carter.
Full copyrights belongs to Rodney Carter and Alfredo Norese.
Vocals recorded in NYC (USA).
All the instruments recorded at Nors Music Studios, Rosario (Argentina)
Production and mixing by Alfredo Norese.
Assistant production Maria Demauro.

Gotta Keep Faith Records - 2018
www.gkfrecords.it
Contact : office@gkfrecords.it
For Licensing, please contact:
licensing@gkfrecords.eu

-----------------------
ALFREDO NORESE BIO:

Accomplished musician and music producer, Alfredo was born in Rosario, Argentina's 2nd important city.
Alfredo has been working in house music since 2003, when he started producing for Steal Vybe Records from New York (USA). The journey continue working with big names in the industry as singer Kaysee, remixing for Rachel Claudio, Barbara Tucker, D'layna Hughes, more songs released through labels like Nervine, Nervous, Soundmen on Wax, Sugar Groove and many others worldwide .
Alfredo's style is easily recognized for the way he uses luscious harmonies and subtle arrangements, always with powerful rhythmic and brilliant guitar chops bringing class and quality to each one of his productions.
Nowadays and besides his work as musician and producer Alfredo co-owners Nors Music, a small production facility and recording studio also located in Rosario, where with another Argentinian musicians and producers, they deliver quality music to many places all around the world.


RODNEY CARTER BIO:

Rodney Carter aka ICE is a New York/New Jersey based singer/songwriter/producer. He has seen and embraced the various sides of being an artist. He performed in an underground R&B duo BRIDGE with Eric Scott. BRIDGE toured up and down the East Coast and opened for many major artists (Usher, Montel Jordan, and Changing Faces among others). He enlisted the late NY-based Teddy B. as a vocal coach who helped them develop the requisite skills needed for long-term success in the industry. He has tapped into many of these skills to craft many songs and to build a vast, diverse and ever-expanding musical catalogue. He has the unique knack and ability to work on either side of a mixing console as a lead vocalist, producer, or for background vocal arrangement.
He lists Donny Hathaway, Luther Vandross, James Taylor, and Sting as musical influences. He draws inspiration from almost any situation, and can quickly and efficiently transform any idea from thought into lyric and ultimately into song. In fact, he has written so many songs that he has stopped counting the number because it is subject to change at a moment's notice.
He lists longtime collaborator Wil Milton, Charlemagne (Fortress Ent.), Jam and Lewis, R. Kelly, Joe, Stevie Wonder and Marvin Gaye among many who influence and inspire his keen musical ear. From a collaboration or production standpoint, the thought is simple in that both music and lyric should work together. When music, lyric, and melody work together, timeless music is born. His objective as a producer is to provide the artist with a musical canvas upon which lyrics and melodies can color that canvas.
He has performed background vocals for underground rap groups Natural Elements ("D2-Tons" and "Life Ain't Fair") and Committee for Life (CFL). He has also been behind the scenes as a producer/songwriter on the 2003 independently released Word on the Street.
He has worked with notable producer Charlemagne (Fortress Ent.), who has produced for, Mary J. Blige, Missy Elliott, Jay-Z and R. Kelly to name a few. Working with Charlemagne, Bridge amassed a massive catalog of Hip-Hop, R&B, and Pop songs.