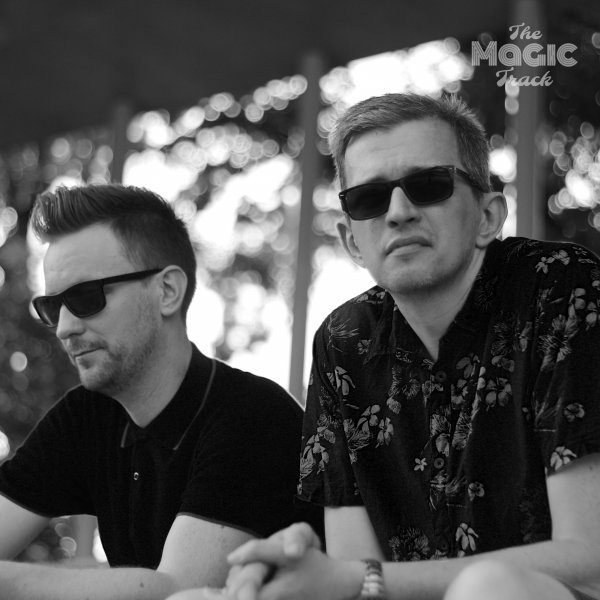 Artist
THE MAGIC TRACK
The Magic Track is a co-operation of two infatuated house and disco DJs and Producers from Debrecen, Hungary

Gio, formerly known as Giocator was raised on classic house and techno, and also influenced by the sound of the 80's electro and synth-funk sound. In his twenties he produced Drum & Bass, released more than 50 tunes worldwide and also managed a label called: Black Seeds Recordings.

After more than a decade of DNB, he returned to the disco scene and now he takes advantage of his previous experiences and learned skills to create something new.

Gio is a typical INTJ, constantly pursuing and seeking for patterns. A wine-lover, who admires Russian literature as much as Latin culture and mentality.

DRJ, formerly known as Dr. Juzztice - grown up on 80's pop, indie, and UK punk - first played as a DJ 20 years ago in local bars, community radio stations.

With his former crew he was the promoter of a chillout venue of a local festival for more than a decade. He loved playing slower genres, like dub, downtempo and later he was very much into broken beat, nu jazz, or headz - among others.

Always spiced his mixes with some funk and around 2018 he finally fell in love with disco. He is an amateur cook, runner and a big fan of French comics.

It was inevitable that these guys will work together sometimes. They both love the classic funk & soul from the 70s and this is what they mix with brand new and recent house, disco, afro, brazil, indie dance and nu disco tunes.

Their producer career was started in 2020 only, with some minor appearances on And Friends Records. Couple months later but still in 2020, they released their first solo EP 'Four Seasons' on Furious Mandrill Records. Their first little successes, came in early 2021, when their second Furious Mandrill EP reached the TOP 10 at and it was sitting there for more than two weeks. By that time their music was supported by Fingerman, Pete Herbert, The Funk District, Stephen Richards, Mannix, Paul Older, Igor Gonya and they made a lot of nice friendships which was a great catalyst on their productivity. They appeared again on toplists several times and made some nice releases on Spa In Disco, Tropical Disco Records or Masterworks Music.

Their latest digital EP was released on Hot Digits Music in July and also made it into the TOP100 on . And what's more: some of their latest tunes were hit the record stores as well, as they released on Daje Funk Records, Legofunk, and on The Very Polish Cut outs.

Next magic music is coming soon on Samosa Records, Furious Mandrill Records, Spa In Disco and more.

2022-12-02

2022-11-25

2022-11-16

2022-11-16

2022-08-16

2022-08-01

2022-08-01

2022-08-01

2022-08-01
2022-06-13