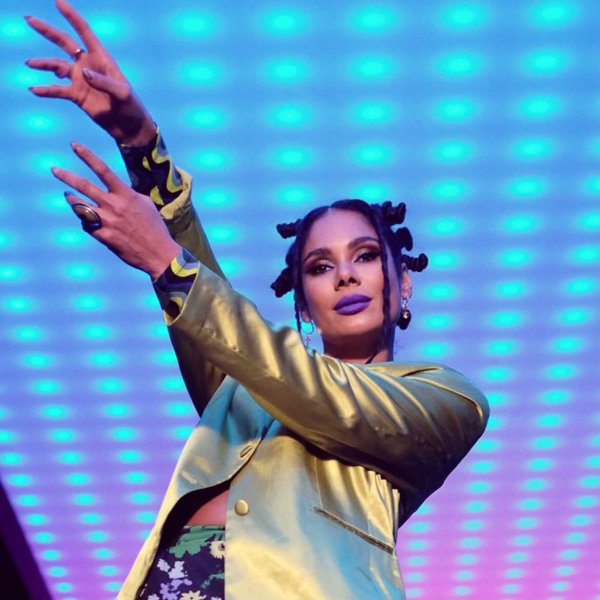 Artist
JAMIIE
Navigating through the genres of electronic music and African inspired house music, Berlin based Watergate resident JAMIIE is dedicated to take the audience on a journey, to connect them, to make them feel the groove and power of music with her eclectic sets.

Born to a German mother and a Nigerian father, the love for ancestral grooves was handed to her on a silver platter. As a little girl she enjoyed dancing to the sounds of afro beat pioneers Fela Kuti, Tony Allen and Sonny Okuson on the parental terrace in Surulere, Lagos/Nigeria, where she spent 2 years of her childhood.

In the 1990's her love for electronic music enflamed when she accidentally tuned into "The Steve Mason Experience" on BFBS Radio. She was immediately fascinated by the energy of the early house and techno music and started to record the shows on tape for her classmates. But it wasn' t until decades later that the late bloomer found her calling in expressing her passion for music through djing.

"It all started with a party of friends, where I hit the start and stop bottom, putting some of my favorite tracks on the decks, from hip hop to house over dancehall to afro beats. The place was cooking and I was fueled by this exuberant and vigorous energy. "Music is such a powerful tool. When it speaks, our emotions listen. It has been known to humans in all times and in all cultures. Music crosses boarders and builds bridges on so many levels. Everyone can participate".

It took not long that JAMIIE caught the eye of the Watergate Booking Agency, gaining her a residency at the renowned Watergate Club in Berlin as well as a kick off to international gigs, having her played in Greece, Mexico, Italy, Cypress, Denmark, Stockholm and German festivals such as Fusion Festival, Sacred Ground Festival and Feel Festival.

As a member of the RISE collective, an African inspired event and record label based in Berlin which holds showcases from Europe to Africa as well as a monthly event at Watergate to represent the African influenced house sound to the German techno capital, she found the perfect home and platform for her artistic calling in this diaspora.

JAMIIE remixed Tom Peter's 'Novum' on Studio Kreuzberg Recordings and made it a fantastic afro house track with stunning percussions. It was her first official release followed by releases on Watergate Records, Harabe Recordings, Cacao Records & more to come soon!

2022-12-30

2022-12-16

2022-12-16

2022-12-16

Voices
Malandra Jr. Remix

(7:05)
2022-12-16

2022-12-16

2022-12-09

2022-11-25

2022-09-23