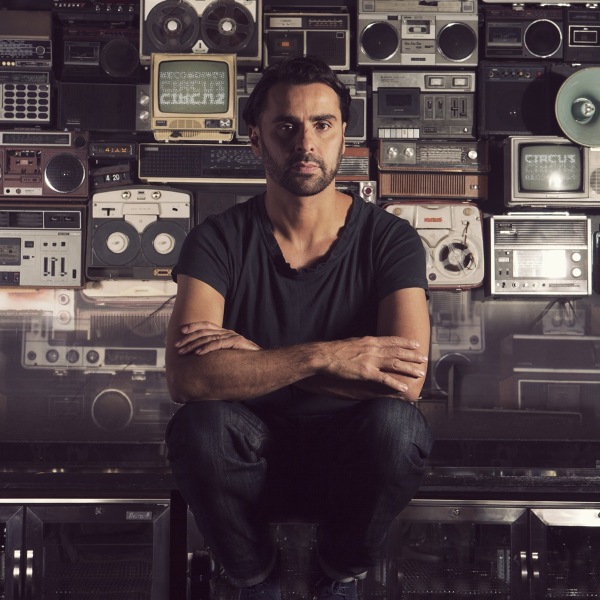 Artist
YOUSEF
Yousef consolidating his status as an international DJ, Producer, Club Promoter and Music aficionado with ever greater impact. Last year saw him achieve a first, the release of his debut artist album - A Collection of Scars & Situations' finally laying down on wax a watermark of his effervescent personality. It showcased the different dynamics to his sound as a performer - heavy support from the usual rag tag ensemble of dance music greats; Sasha, Danny Tengalia, Nic Fanciulli, Carl Cox, Steve Lawler, Radio Slave and Nick Curly among them.

'A Collection of Scars & Situations' was more than just your typical DJ led collection of bangers. They are catered for of course, most resplendently by the pulsating tech house monster 'Legacy' (bolstered by a superb archaic vocal from Derrick Carter) and the Beyer - esque 'Equilibrium'. But it's the haunting electronica of 'Birthday Thoughts' and 'A Moment of Clarity' that gave the album its gritty edge, two bleak almost dystopian efforts which channel the darker undercurrents of electronic music perfectly, DJs, clubbers and the Music media were universal in the praise.

"Legacy" was picked up for global single release by Renaissance. It garnered plays all over specialist dance radio worldwide (most notably John Digweed, Carl Cox and BBC Radio One's Pete Tong), as well the coveted DMC single of the week; it was dubbed "one of the stand out tracks of 2009". When Yousef was asked to contribute an essential mix from the world renowned Creamfields, he set about remaking the track into the 'Terrace Edit', taking the track into a newer and fresher direction (two further ep's are set to drop for renaissance in 2010).

It continued the mutual love affair between Yousef and Germany, the hub of worldwide electronic music. He signed two new EP's to Mannheim's premier league label Plastic City, and after season long support from Sven Vath, "Come home" was released on the world's most followed electronic music brand Cocoon. It blew up, cutting across the spectrum of house and techno, making 'Essential new tune' on Pete Tong's Radio One show, with consistent support from John Digweed, Laurent Garnier and of course Vath himself. A certain dj names Sasha fell in love with the composition so much he asjked to remix it, which he has in fine style (out on cocoon in mid 2010).

Yousef was then signed to Berlins' leading DJ agency WILDE for his bookings in Germany, Austria and Switzerland, while he remains in the hands of Safehouse management for the rest of the world, also home to Carl Cox.

The international love has never been stronger for Yousef. The first international DJ to play the troubled nation of Syria. Ibiza, with its arcane hedonism and wild party ethos has always served as an adequate stomping ground for his cross genre grooves. And of course he's back there this year... with a vengeance! South America has also shown a stronger allure for Yousef, with further ground being broken in Argentina, Uruguay and Brazil increasing his continental lustre. A recent 6 date tour on Indonesia showed how far yousefs reach is getting. Closer to home, he clocked up his first London Residency by inking a monthly deal at Matter, the brainchild of Fabric impresario Keith Reilly. Matter NYE saw another iconic Yousef DJ set, taking over from Vath at 2am for the inaugural Cocoon party and delivering a three hour onslaught of fierce and brutal house and techno to a 3500 capacity club.

Whether criss-crossing the globe with his arsenal of varied sounds or impregnating his own individual aural histrionics on wax, Yousef is stamping his identity on dance music and leaving a lasting impression. There's few who come close in terms of dedication or in the variance of approach, Yousef hits each and every base with alarming regularity. And the best part yet? The journey has only just begun...

2022-09-23

2022-08-26

2022-08-19

2022-07-29

Junior Jack
,
Pat BDS
,
Kolombo
,
Virak
,
DOWNLow (US)
,
Tim Cullen
,
Jochem Hamerling
,
Adam De Maaral
,
Ferra Black
,
Dvit Bousa
,
DJ Frisco
,
Marcos Peon
,
Mr. Lekka
,
Jan Danen
,
AndThen
Audiojack
,
Patrice Baumel
,
Alex 47
,
Darius Syrossian
,
Butch
,
Max Chapman
,
Joeski
,
Harry Romero
,
Yousef
,
Todd Terry
,
Artche
,
Gorge
,
Matt Sassari
,
Josh Butler
,
Bontan
,
Dale Howard
,
James Organ
2022-07-29

2022-07-22

2022-07-22

2022-07-22

2022-06-24