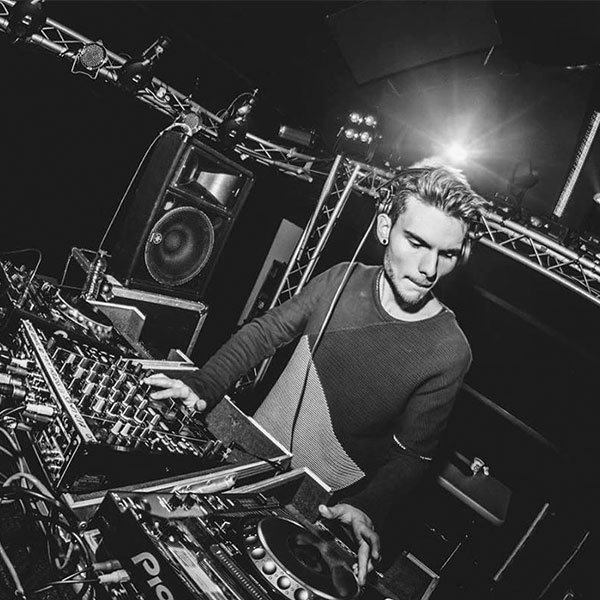 Artist
ANDREA GHIROTTI
Andrea Ghirotti was born in Ferrara on 04/04/98 and since childhood has a great passion for music in general, given the strong desire of his father, musician, to let him know the world of sounds. From a tender age, she becomes attached to dance and dance music, the one that moves people, that makes them smile and entertain. So, when he became a real teenager, he decided to try and see if his musical tastes can convey the same passion and desire to celebrate the people who listen to his sets. Initially the boy is very influenced by strong and pressing rhythms of the world of contemporary dance music, but after various researches of taste and quality he realizes that the genre that most belongs to him and the Underground: La Techno.
By stabilizing on this genre, and beginning to know the first music composition software, he begins to search for sounds and ideas so that his music can evolve continuously distinguishing itself from the most fashionable tracks in this genre. Underground and dark style are part of this boy who expresses his own tastes for Techno music in his productions. Power and soft melody is what Andrea tries to offer to his audience and, thanks to this, he begins to have the possibility to express himself in various contexts of the Ferrarese area; starting from Madame Butterfly with the Infinity Staff of Ferrara, confronting with sacred monsters like: Marc Houle, Magda, Andrea Oliva. Passing through the Enjoy Club of Gualdo until you get to clubs that are part of an excellent musical showcase in the surrounding areas: Bologna, especially the T: me and the Small Club, Barracuda Club, collaborating with the guys of the Ground Zero Staff and with guests like Wade and Da Vid. Also taking part from 2016 to the New Year's eve in the Ferrarese that brings together all the DJs in the area, being able to collaborate with artists such as Lorenzo De Blanck etc. In 2017 comes the first date abroad for the showcase of the English label ThreeRecordsUk that allows him to compete with excellent artists like Tripio X in that of Plymouth. Resident official Friday evening Tetris license in Ferrara, is also taking space in evenings organized by staff Toulouse able to offer him the opportunity to deal with a high-caliber artist like Alberto Lolli.
At the production level, after having learned to handle the composition software such as Ableton, Logic Pro and FL Studio, he started to release his productions on more labels, even at European level, starting from Spain and coming to Hungary, arriving in Brazil. Productions that can be heard on the private Soundcloud profile or even on all digital markets, such as another download site, iTunes, Traxsource etc.
Nowadays there have been numerous satisfactions, but this only increases the desire to improve and make people discover their music, starting from friends up to a large scale. Innovation is the watchword of Andrea Ghirotti who, despite his age and limited experience, tries to involve people who listen to his productions or sets in the best possible way.

Fields
Andrea Ghirotti Remix

(4:51)
2023-05-14
2023-03-31

2023-03-06

2023-01-06

2023-01-06

2022-12-27

2022-12-27

2022-11-06
2022-09-10

2022-09-04