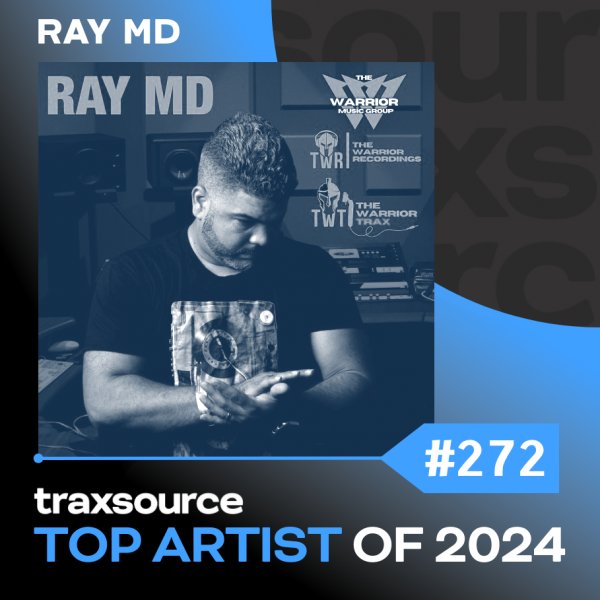 Artist
RAY MD
Ray MD was born in Santo Domingo, Dominican Republic, one of the most exciting cities of the Caribbean, at the present time he lives at
New York City and is the owner of The Record Label "The Warrior Recordings".

You can stay updated with Ray MD via Instagram at : @DJRAYMD
and with the Record Label: @THEWARRIORREC

Ray took a part of the electronic music of his country approximately Tweenty years ago, He has shared dj's booths with some of the most important names of the global electronic scene like Steve Angello & Sebastian Ingrosso, Roger Sanchez, David Guetta, Chus & Ceballos, Oscar G, David Tort, Boris, Saeed Younan, Victor Calderone, John Creamer, Milk & Sugar, Sandra Collins, Junkie XL, DJ Dan, Trent Cantrelle, Steve Porter, DJ Wady, Luca Ricci, Jose Nuñez, Sergio Fernandez, John Acquavivas, David Penn, Richie Santana, Peter Bailey, Rob Mirage, Angel Alanis, Dave Ralph, Simon & Shaker, Di Paul, Jerry Ropero, Andres Mijangos, Tom Stephan aka Superchumbo, Randall Jhones, Eric Entrena, Desyn Massiello, Pete Tha Zouk, Dario Nuñez, Oscar de Rivera, Frank Maurel, Carlos Manaca, Patrick M, Elio Riso, Denis The Menace and many others.

His influences are Latin-American, Brazilian and African music rhythms with tech elements under the base of House music, for Ray is very monotonous to play just one style , he likes the fusion of the styles, house rhythms mixing with Deep, Tribal, Progressive, Techno, Samba, Funky and more, creating a really musical trip in his performance, Thanks to his style and versatility has had the opportunity to visit almost all the cities of his country in the best and most respected clubs and expand his talent to the United States, playing in New York City, New Jersey, Miami, Tampa, Orlando, Puerto Rico, just to name a fews..

He has released his tracks in some of the most important underground labels of the world such as Stealth Records (Roger Sanchez's label), Cr2 (Mark Brown's Label - UK), Stereo Productions (DJ Chus's Label - Spain), Nervous Records (NYC), Twisted Records (USA), Distinto Recordings (D-Formation's Label - Spain), Beat Freak Recordings (D-Formation's Label - Spain), Union Records (Peppe Citarella, Italy) 4Kenzo (Mastiksoul's Label - Portugal), Soleado Recordings (Dario Nunez's Label - Spain), Radikal Records (New York), South American House (Marcelo Castelli's Label - Uruguay), BedRoom Muzik (DJ Wady's Label - Miami), Cancun Records (Mexico), Tanira Recordings (Portugal), Groove on Records (Miami), TKC Records (New York), SUMA Records (Spain), Who Bear Records (Spain), Quanza Records (Egypt), SouthSide Recordings (Miami), Slated House Black (USA), Latitude Recordings (Portugal), Soul Sound Records (Portugal), Beat Work Records (Italy), Selector Music (Ivan Robles's Label- Puerto Rico), Dot Com Recordings (Spain), Sheva Records (Italy), Goanche (Spain), Dirty Players (Spain) just for name a few.

His tunes have been played by some of the most relevant djs all over the world. Roger Sanchez , Robbie Rivera, Saeed Younan, Antoine Clamaran, MastikSoul, DJ Wady, Abel Ramos, Chus & Ceballos, Oscar G, Richie Santana, DJ Boris, Luciano, Franco Bianco, Richie Hawtin, Jerry Ropero, Fedde Le Grand, Benji Candelario, Benny Royal, Mike Vale, Danny Chatelain, Rio Dela Duna, Pete Tha Zouk, D.O.N.S., Marcelo Castelli, Sergio Fernandez, Eric Entrena, Cytric, Rob Mirage, Tha Kid Chris, Dario Nuñez, David Penn, D-Formation, Redkone, Alex Young, Angel Alanis, Adam Freamer, Saliva Commandos, Luca Ricci, Denny Tsettos, DJ Fist, Eric Ensastigue, Mario Calegari, Di Paul, Dextro, Tamer Fouda and many others.
La Palabra
Ray MD & The Warrior Fusion Remix

(7:18)

2022-12-09

2022-12-01

2022-11-10

2022-10-20

2022-10-20

2022-10-20

2022-10-20

2022-10-20