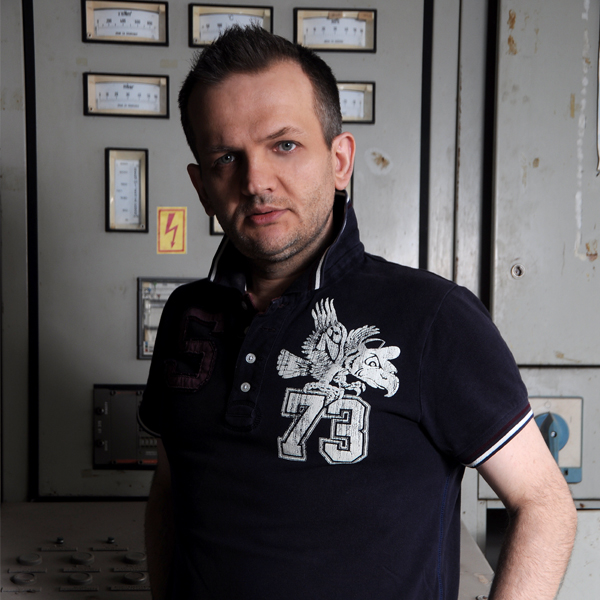 Artist
VLADA ASANIN
Vlada Asanin, the Balkan rising star of the electronic music scene. With more than twenty years as a DJ, he has created a very personal and distinct sound. Worldwide, Vlada is supported by other great artists in the electronic industry. Vlada Asanin was born October 18th, on a cold day in Serbia. Listening to the national radio of his country at the early age of 8 years old, Vlada enrolled in The School of Music in Belgrade, specializing in the clarinet and piano.
Soon after, Vlada discovered not only a skill, but his lifes vocation due to the influence of his main idols, Depeche Mode, The Cure, U2, and Morrissey.

Vlada, in 2008, created two record labels, Crystal Sound Records and Zero Urban Records. In a short period his record labels have made a worldwide permanent mark in the music industry. According to another download site.com statistics, 70 percent of produced tracks by him are sold outside of Spain with most success in the United States, England, Germany, Italy, Brazil, Columbia, Holland, Belgium, Russia, Japan, Canada, Mexico, Saudi Arabia, etc.

Since then, Vlada has demonstrated his excellence for success by exuding effortless talent and working non-stop. He receives support by top notch DJs and producers like Jhon Aqcuaviva, Richie Hawtin , Oliver Giacamoto , Marco Carola , Mark Knight , Umek , Popof , Manuel de la Mare, Marsall, DJ Chus , David Penn , Abel Ramos , Alex Kenji, Saaed Yonan, Mario Ochoa , Dj PP , Jerome Isma-E, Thomas Gold, Nice7, Marcelo Castelli, Ndkj, Mastiksoul, Eric Entrena, Chris Lake, among others.

Vlada has also executed projects for key international record companies such as Form , 1605 , Younan Music, Nervous Records, Hotfingers, 303Lovers , Pornostar , Definitive , Stereo , Urbana , Sphera , Beatfreak, Pacha Records, Muzik X Press, Blanco y Negro, Magna, Avenue , 4 Kenzo, DJ Center, Rusted , etc. During 2010 to 2012 , Vlada launched more than 350 productions into the market, and more than 100 are managet to get into world top chart of electronic music. ( Music Download Charts or Radio Charts )

Riding high on a wave of relentless success, Vlada finds himself at the peak of his career. Not only is he having the time of his life as a DJ and producer, but as an artist who realizes that his destiny is to be victorious, since his colleagues, promoters, record companies and all of his fans attest to that future.

Discover Vlada Asanin, the pure definition of technique and passion united.


2022-11-14

2022-09-19

2022-09-16

2022-08-15

2022-08-15

2022-08-01

2022-08-01

2022-06-24

2022-05-27