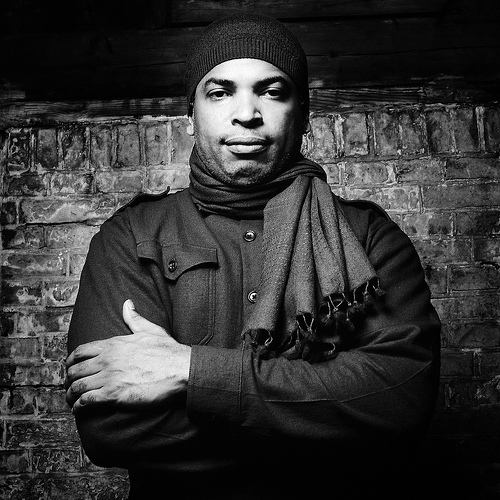 Artist
JOE CLAUSSELL
Joaquin "Joe" Claussell was born in Brooklyn to a large and diverse Puerto Rican family with deep musical roots. Throughout his life, music was Joe's shelter, family, food, comfort, escape and love. His first exposure to entertaining audiences was in his own neighborhood at block association events, musically led by one of his elder brothers Larry Claussell. Not long after he hit the club and began collecting vinyl at the age of 15 and his diverse taste for music and dance led him from a Disco at a club called The Inferno to Punk music' s sanctuary CBGBs, the alternative driven Mudd Club, the more mainstream Underground, and the legendary Paradise Garage.
While living in the East Village in the early 90s, he found and fell in love with a record store called Dance Tracks. He formed a friendship with the owner, which became the foundation of his musical career. Joe became the store's DJ and called weekly parties that drew a diverse and increasingly devoted crowd of music lovers. All in the name of fun he received an invitation from owner and good friend Stan Hatzakis he began producing: and did his first remix "Over" and his produced first track "Awade," both becoming instant underground classic. Over time he learned the music business and eventually took over the Dance Tracks.

In 1996 Joe launched his independent eclectic world house label Spiritual Life Music from the back of Dance Tracks, and around the same time over saw the birth of "Ibadan Records" with friend and executive producer Jerome Sydenham. The labels' productions are fluid - with organic African, Brazilian, Latin and Middle Eastern Rhythms crossing over into Disco, Jazz, House, and Electronic music. He is intricately involved in every aspect of the production process: the music, writing, selection or creation of the visual art, and graphic design. Under his labels he has nourished and produced fledgling artists. His first release was "Nothing's Changed" by Ten City, followed by works from Jephté Guillaume, Mateo & Matos, Slam Mode, and Three Generations Walking. His own first full-length album was "Language." Great artists and record labels have sought him out for collaboration and remixes of works by Femi Kuti, Herbie Hancock, Beth Orton, Steward Mathewman (Sade), Cassandra Wilson, Diana Ross, and Manuel Göttschin to name a few. His remixes have revived classics such as Hector Lavoe's Classic "Alejate;" Cesoria Evora's "Sangue De Beirona." and Nina Simone's "Feeling Good" featured on prominent TV shows such as "Sex And The City". Joe's "Feeling Good" remix sung by the late Nina Simone was solely responsible for the reemergence of the song which spawned countless remakes and till this day redone as well as used on many TV ads and commercials.

Also in 1996, Joe Claussell joined Francois K and Danny Krivit to play for the legendary "Body & Soul" Sunday afternoon dance party. For 6 years, music and dance lovers from NYC and around the world came every week religiously to experience the totally unique musical journey of Classic, World, Soul, Disco, Funk, and House. The tracks are brought to an infinitely higher level by the synergy of each DJ's unique of live performance artistry and the incredible creative and conscious crowd. 15 years later Body and soul is going stronger than ever.

For the last decade to present, Joe has been constantly playing music all over the world, however it is also his being in high demand as a producer and remixer that keeps him working. Joe's talents are also sought after in the visual art world where he is currently touring with a project titled "TREMBLING sensing space" produced by Dutch theater director Lidy Six.

2022-06-10

Ficus Carica
Joaquin "Joe" Claussell's Cosmic Arts Deeper Journey Version

(14:22)
2022-05-27

2022-04-29
Wake Me
Louie Vega & Joe Claussell Remix Instrumental

(8:29)
2022-04-15

2022-03-04

2022-03-04

2021-08-20

2021-07-16

2021-06-25

2021-06-25